By Annie Kane, Hadley Junior High School science teacher
I cannot thank you all enough for what you have done for our students and our school this year!
Our problem-based learning activity started when Mary Pettinato came to speak to our students at the kick-off event, telling students about Honor Flight Chicago, presenting them with problems to solve and challenging them to do their part to help the organization honor veterans. Mary can only be described as a force of nature. She is a compelling speaker, and by the end of her presentation she had an army of 350 sixth graders who were inspired to help her organization in any way they could. After the event, she was surrounded by students giving hugs, shaking hands, and thanking her for coming.
Students then had the opportunity to meet and interview veterans from WWII and the Korean War. The day was emotional for students and staff alike. Teachers with a free period, parents and office staff could be seen slipping into rooms to hear some of the veterans' stories. History we had learned about in books now had a face and a personal story to make it more meaningful. Students asked questions and took notes, then wrote a narrative about the veteran they interviewed.
My personal favorite moment that day was when I called my mother, a woman who had grown up in France during WWII, with WWII Tank Commander Peter Gilea beside me. He had fought his way across Europe starting at D-Day. I wanted to introduce her to one of the heroes responsible for the liberation of her country when she was a girl. Hearing her speak on behalf of France to thank him for her freedom is a touching moment that I won't forget. Impromptu applause, hugs and handshakes by students occurred throughout the day, and you could hear students thanking veterans for their service.
Next, students wrote narratives about the veterans, and were charged with coming up with solutions to the problem of how to best help Honor Flight Chicago honor our veterans. We asked students to consider Korean Veterans in particular, as they were veterans from a largely forgotten war.
After the students designed their solutions, they presented to an expert panel of veterans and Honor Flight Chicago volunteers. The panel heard the students ideas, asked questions and gave the students feedback on their solutions in order to improve them. Having experts hear student ideas and give suggestions is a powerful part of problem-based learning.
Students came up with many ideas based upon what Mary presented when she had spoken to them. Many wanted to have our school write letters for mail call, tell impact stories of veterans by making podcasts or videos made of the narratives they had written. However, others went in a variety of other directions. For example:
One group designed a coffee cup with the Honor Flight Chicago logo and a QR code on it that would link people to the HFC website for donations.  

Another group thought about visiting senior homes in the area to share information about HFC with eligible veterans.

A third group decided to design an Honor Flight Chicago App idea to pitch to the Verizon App Challenge competition.

Other groups wanted to distribute HFC bookmarks at the local library, bookstore or elsewhere in the community to inform the public about the organization and encourage donations.
Many of these ideas went on to be implemented by students and teachers. Yet these are only a few of the many ideas students created and defended after presenting them to experts.
Honor Flight Chicago partnered with Hadley students and teachers throughout this process, providing access to veterans and HFC staff, giving students inspiration, giving students feedback on their ideas, setting up an appointment for our students to work with their graphic designer to design bookmarks, and more.
We have heard repeatedly from many students that they knew veterans were important, but that their awareness of the importance of veterans was permanently elevated and changed by this experience. As educators, we were happy that students collaborated, created solutions, thought critically, and communicated ideas in the process.
— By Denise Freimuth
My father was a World War II veteran. He was 53 when I was born, and we were clearly from very different generations. As for me, I served 20 years as a Cyber Warfare Officer for the U.S. Air Force. I served two tours in Iraq before I retired this past April.
My father and I never saw eye to eye. That is, until I experienced the same thing he went through more than six decades earlier.
When he returned home from service, he basically felt that he was forgotten. No one made a big deal about the courage he demonstrated or the sacrifices he made. When I returned from my first tour in Iraq, I felt the same thing. No one said anything to me. My family picked me up from the airport, and then I went back to work as if nothing had happened. I wasn't looking for a parade, but it was hard to not receive any sort of acknowledgement.
That is why I knew my day as a Guardian with Honor Flight Chicago was going to be emotional. Now that I've had a few days to recover, I confess that I underestimated how emotional it would be.
I had the pleasure of traveling to Washington, D.C. with 108 World War II and Korean War veterans on July 12 as part of Honor Flight Chicago's 79th Honor Flight. It was overwhelming to see all the people saying "Thank you for your service" to our veterans. I have walked in these veterans' shoes, and the words of gratitude are priceless.
Our senior war heroes have spent more than 50 years thinking this nation lived under the blanket of safety without a second thought to the men and women who fought for it. Honor Flight Chicago's day of honor for these veterans changed that. It was crystal clear to them — and to me — that people appreciated their service and that people haven't forgotten.
I spent my day assisting Moe Maw, a Korean War veteran who lives in Woodstock, Ill. Moe was not a man of many words, but we hit our stride together quickly. I knew when he'd need a napkin, and I'd just hand him something without him even having to ask for it.
At the end of the day, he told me that when he talks about the day, he's going to mention me first because I helped make it so special. I was flattered, but I said that would be a mistake. The day was made possible because of all the people who donate time and money to Honor Flight Chicago, not me.
Today, I am a Sayers Senior Project Manager, and I'm proud that my company recently donated $25,000 to Honor Flight Chicago. I had quite a few coworkers who came to the Welcome Home ceremony at Midway Airport. I spoke with everyone from the company afterward, and each said that the ceremony touched them. My boss brought his 18-year-old son to the celebration, and now his son can't stop talking about the experience.
So, on behalf of Moe Maw and all the other veterans on the flight, please allow me to say thank you to everyone who was so gracious in their praise and thanks. Your words meant the world to us.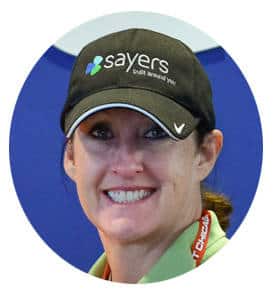 "I knew my day as a Guardian was going to be emotional. I confess that I underestimated how emotional it would be."
Nancy Staiger has volunteered with Honor Flight Chicago for just about as long as the organization has existed.
Staiger was new to Chicago, having recently moved from California, when one of Honor Flight Chicago's co-founders recommended she come out to Midway to see a Welcome Home celebration.
"I went along, not knowing what on Earth it was going to be," Staiger said, "and I spent a majority of the time sitting in the corner crying because I was so moved and touched by what it was."
Staiger immediately volunteered to assist with future Welcome Home celebrations. Before long, she was helping in the mornings at Midway as well. Then she volunteered as a Guardian and started coming in to help with odd projects in Honor Flight Chicago's Lincoln Park office.
As time went on, Staiger began to fill any gaps she could for Honor Flight Chicago: she trained volunteers, submitted application data on the computer, answered questions posted on the organization's website, and even organized one of Honor Flight Chicago's biggest fundraisers, the annual Chicago Police Department vs. FBI Hockey Classic.
Staiger doesn't have family members who served in World War II or the Korean War, but she recognizes the impact Honor Flight Chicago has on anyone who touches the organization.
"I see the change in the seniors when they come home at the end of that flight," Staiger said. "They get a new sense of self-worth and rebirth in terms of their futures."
Staiger has witnessed countless instances where this new energy impacts a veteran's relationship with their children, grandchildren, community, neighborhood and other veterans.
"Many of them are at a point in their life when they are wondering 'does it make a difference whether or not I'm still here?'" Staiger said. "And it does. It so does."
Just as Staiger took on a number of different responsibilities, she stressed there are always opportunities for volunteers to do something they're interested in.
"You could be the person who is really good at stuffing envelopes, or you could be the person that has an incredible background in grant writing or web development or nursing or medical care," Staiger said. "There are so many different ways to make a difference, and the feeling of making a difference is huge."