One of the fun behind-the-scenes aspects of working with the Honor Flight Chicago team to coordinate each flight is matching our veterans with their respective Guardians for the day. Sometimes the two have nothing in common, but sometimes, there is a common connection that makes the match a little more special.
This past Wednesday, we had one of those connections.
I first met Jason Major last fall when he helped us organize an incredible Veterans Day event at William Dever Elementary School. Dr. Major has been principal of the school since 2016 and involved with the Chicago Public Schools (CPS) system for more than a decade. When we found out he would be a Guardian on Wednesday's flight, we knew we had just the veteran for him.
Korean War veteran Robert Keel served in the Air Force from 1950 to 1953. He became a CPS teacher at Mason Elementary school in 1964, and he continued to teach there through 1998.
We had a feeling the two would get along well, and they both agreed that the day was more meaningful because they shared it with one another. They talked about education, CPS, their respective careers and much more. By the end of the day, it wasn't clear which one enjoyed himself more.
Here's what Robert said about his day: "I am not a crier, and I haven't cried since my son died. This trip impressed me deeply, and I cried when I realized that so many people cared."
And here's what Jason said: "To put it simply, my day with Robert and the other veterans was the best honor I've ever gotten in my educational career. Easily." (Jason wrote about the impact of his experience)
Thank you, Jason and Robert, for making each other's days so memorable. To the other veterans who flew Wednesday, thank you once again for your service and sacrifice. And to all of our volunteers, thank you for making the day one our veterans won't soon forget.
Serving with pride,
CEO, Co-Founder, and Janitor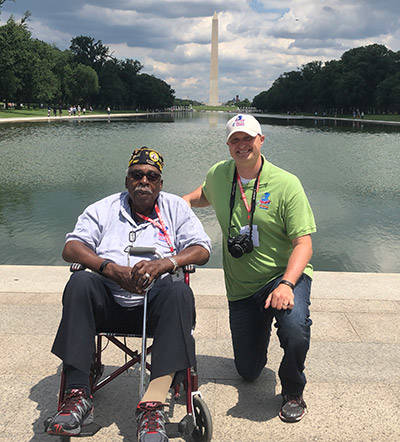 "Wednesday was the most fascinating day I have ever had — at my age of 88. I went to Korea and served as an Air Traffic Controller working seven days a week, eight hours a day. When I came back from the war, I never received a thank you from the people in my town or anyone.  Wednesday, I was busy shaking hands with family, friends and many strangers. All of them wanted to say thank you for your service (audibly crying). It was amazing."
— Julius "Julie" Brasini, Korean War veteran, Army, Age 88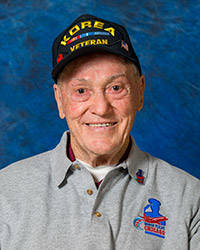 "That trip made me realize how many people appreciated what we did in the Korean War so long ago. I was really moved by how many people thanked us in D.C. and in Chicago. Sailors, fireman, soldiers, bagpipers, and strangers all came out to say, "Thank you for your service." It was truly an honor to be a part of this celebration."
— William "Bill" Haggerty, Korean War veteran, Army, Age 87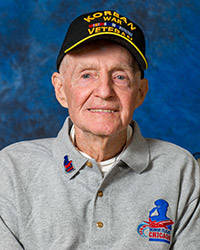 "The most striking part of my day was the coming home. My family was there to greet me when I got off that plane. You know it is hard to get my family together at Christmas or even Thanksgiving. Seeing them last night made the day a real holiday celebration. And the volunteers were all so kind and caring. It was a great day!"
— Art Sawyer, Korean War veteran, Marine Corps, age 87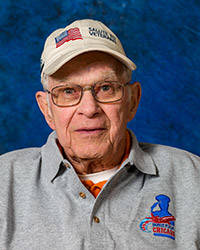 "What this trip meant to me is everything in the world. I thought it was great! Although we saw a lot of sights, what was most memorable was when we GIs were welcomed at Dulles and Midway. Some people grabbed me and asked me a few questions and you know, I just cried. I don't care what color shirt your volunteers were wearing — green, red, purple, orange, yellow — they were all awesome, dedicated, and caring individuals. Thank you!"
— Roger Liddicoatt, Korean War veteran, Army, age 85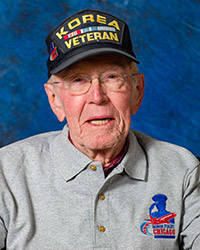 "I had a terrific day thanks to the volunteers who made it possible. The day was most impactful because of the volunteers who made me feel so special and unique, and who also made every other veteran on this trip feel special and unique, too. When we returned home to Midway at the end of the day, and lots and lots of people thanked me for my service, I was able to turn it around and thank some of them for allowing me to serve them."
— Arnie Painter, Korean War and Vietnam War veteran, Army and Navy, Age 81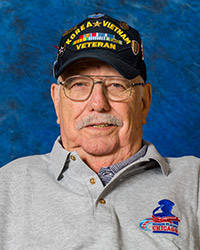 "What was most powerful to me about the trip was that somebody realized that we served our duty to our country and that we deserved to be recognized and thanked for the fighting we did over there (in Korea). It makes me cry every time I think about it. These are tears of joy."
— James "Jim" Nichols, Korean War, Army, Age 85