U.S. Army   World War II  La Grange Park, IL   Flight date: 04/11/18
By David Koziol, Honor Flight Chicago Veteran Interview Volunteer
Jim Carroll was born in the Chicago neighborhood of Austin in 1928. He was the fourth child and the first of his siblings to be born in a hospital. When the family returned home from the hospital with Jim, they found themselves evicted. Jim said, "Our family suffered some hard times during The Great Depression." However, they were lucky to move into a nearby building in Austin owned by Jim's aunt. So, in "Aunt Nana's" building, the family established a new home where Jim resided into adulthood.
Jim had eight siblings, five brothers and three sisters. Four of the five brothers also served in the military. His brother Bernard was twice wounded in the Battle of the Bulge fighting with Patton's Third Army. Joe served in the Navy and his ship participated in the Battle of Okinawa. Charlie and John served in the Air Force. His brother Bill was not inducted into service because he only weighed 110 pounds which turned out to be a blessing; he became a jockey at Hawthorne Race Course. All the brothers survived their military service; Joe and John joined Bill as jockeys post war.
Jim attended and played football at Austin High School. During his junior year the football coach told him he no longer would be a starting player. So, at seventeen and with his mother's permission, Jim enlisted in the Army. Not only would he be leaving his family, he would also leave behind his "childhood sweetheart" Jean Wilson.
Jim enlisted in September, 1946 with four buddies from his neighborhood gang, the "Parkside Maulers." They all had the idea of using the GI Bill after their service. Jim says, "Four of us went to Japan and one to Germany." Since it was 1946, they could enlist for only eighteen months but would be able to use the GI Bill. Jim says the reason for the short enlistment, "was to get all of the World War II veterans home from overseas that had been drafted."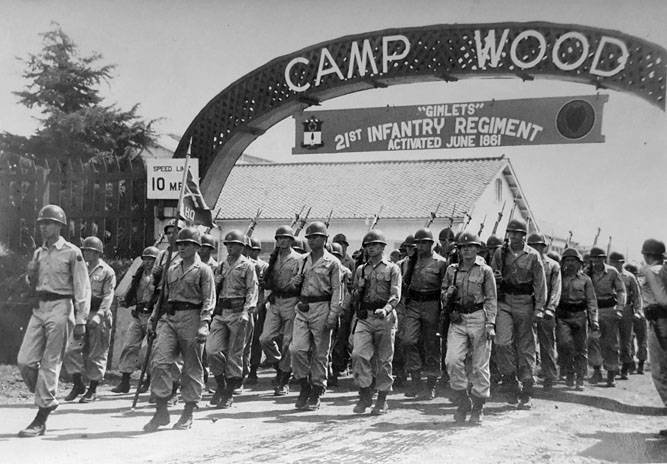 Since Jim was now in the "Regular Army," he chose to do his Basic Training with the 82nd Airborne Division at Ft. Bragg, North Carolina. After training, he was assigned to the 11th Airborne Division stationed in Hokkaido, the northernmost island of Japan. He departed from San Francisco in a troopship bound for Tokyo Bay, Japan in December, 1946. The journey aboard the "puke ship" as Jim affectionately calls it, lasted thirteen days. He said he was sick the first three days of the journey before he "got his sea legs." Some soldiers suffered from severe dehydration and had to be carried off the ship.
Arriving in Tokyo Bay at the end of 1946,  Jim received news he would not be assigned to the 11th Airborne Division unless he wanted to re-up for an additional two years. Jim refused and was assigned to the 21st Infantry Regiment of the 24th Infantry Division. This regiment was stationed at Camp Wood, near the city of Kumamoto, on the southernmost island of Japan called Kyushu.
Jim left Tokyo by train en route to the island of Kyushu. "During this ride," Jim said, "the train travelled two miles underwater between the main island of Japan and Kyushu." Upon reaching Kyushu, Jim boarded trucks with the other men headed to Camp Wood, located five miles from the city of Kumamoto. After arriving at Camp Wood, Jim was assigned to the Headquarter Company of 2nd Battalion. Camp Wood with its wood buildings and electricity was modern and comfortable unlike the conditions outside of the camp.
Jim reflected on the Japanese population of Kumamoto saying, "It was sad, they had it tough. They were starving and some committed suicide, mostly women. They were eating out of our trash cans."  He says, "The Japanese soldiers were returning home in their old dirty uniforms to a country in ruins. There were no jobs, so they worked in the rice fields." He says, "I was there a year and never saw a car."
Jim's MOS (Military Occupational Specialty) was Pioneer (729) Construction and Engineering, which Jim called "ammunition and demolition." The island of Kyushu had several large shore batteries with gun emplacements. Jim's section was assigned to blow them up. After the detonation and explosive destruction of their first shore battery, a large one-ton piece of rubble was hurled onto a Japanese home. The Japanese citizens were upset, and the large-scale destruction of shore batteries ended. Jim's unit was also assigned to blowing up some bridges. When not actually doing work, the Army kept its soldiers busy by continual training. Jim says, "When we really needed the practice, we would build a bridge to blow up."
After serving a year of occupation duty at Camp Wood, Jim was sent to Yokohama, Japan to board a transport ship home. While waiting at a replacement depot, he was assigned to the transport ship USS Butner, which was seeking MOS Pioneer (729) soldiers. This ship was on a rescue mission and needed demolition experts. The ship was to pick up U.S. Marines in China, known as "China Marines" who were being pushed out of China by the Chinese Communist Nationals. Jim's mission was to destroy the U.S. equipment, so it wouldn't fall into Communist hands.
The USS Butner made its way from Yokohama to its first stop, the Chinese port city of Tsingtao. Upon arrival the Marines were already in the harbor and the Chinese Communists were close behind. The ship docked, and Jim says, "The Marines were quickly loaded aboard leaving all the equipment behind." Jim was not needed; no demolition was being done. The next port was Shanghai, and the USS Butner was unable to dock, the Communist Nationals were everywhere. Jim says, "The Marines were ferried to our ship." Again, Jim and the other demolition experts were not needed, and the equipment fell into Communist hands.
With all the "China Marines" aboard, the USS Butner headed to Subic Bay, Philippines. Jim says, "All the Marines were dropped off, except for twelve." There were still war crimes trials going on against Japanese military personnel. The twelve Marines would be used as guards for Japanese prisoners that were headed to the island of Guam. The USS Butner also transported American judges and lawyers who participated in the war crimes trials back home to the US from the Philippines and Guam. This mission added forty days to Jim's enlistment. By the time the USS Butner left Guam the saying on board was "Back in the states by 48."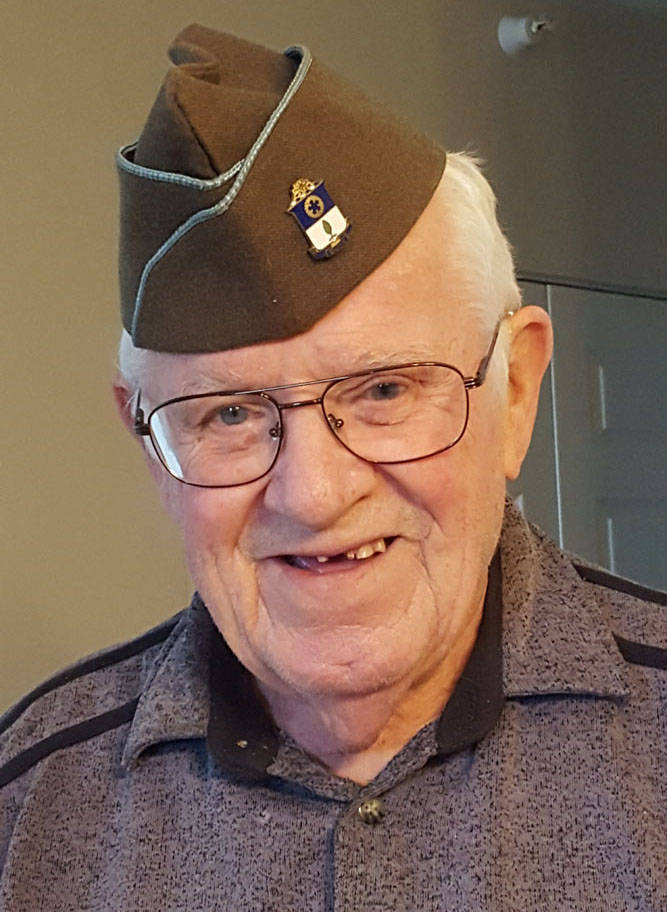 Jim finally did make it back to the states and was honorably discharged in February 1948. His service awards include the World War II Victory Medal and the Army of Occupation Medal w/Japan clasp. After his service he says, "I was lucky to get a job at Western Electric." He never used the GI Bill, a benefit he had hoped to use. However, he was an Army Veteran and avoided the upcoming Korean War draft. He says, "I was considered a veteran, so I didn't have to go." Jim considers his service in the Army as one of the three greatest events of his life.
The greatest of the three events was in 1951, when he married his girlfriend and "childhood sweetheart" Jean Wilson. Jean was a great seamstress and won her high school fashion show during her junior and senior years. Later Jean, who also held a full-time job, made wedding dresses for many of her nieces. She even once outfitted the entire bridal party. Jim's promotion to a management position at Western Electric to Section Chief was his third greatest life event. Jim would retire from Western Electric with thirty-seven years of service.
Jim and Jean were residents of Westchester for forty-four years until her sudden passing in 1994. They had no children but have many nieces, nephews. Jim now resides in a condo at a senior living community in La Grange Park, IL. There he is surrounded by pictures of his wife and family, including his grand-nieces and grand-nephews. He says humbly, "They like their Uncle Jim."
Jim, thank you for enlisting in the Army to get your fellow service members home, and for your military service as a member of the Army of Occupation in Japan. Enjoy your much-deserved Honor Flight to Washington, D.C.