U.S. Marine Corps  Korean War   Oak Lawn, IL   Flight date: 04/11/18
By Andy Dunning, Honor Flight Chicago Veteran Interview Volunteer
Korean War veteran William "Bill" Adams knows the value of hard work. Having labored at his family's funeral home since a young age, he was eager to take his work ethic with him into the Marine Corps and serve his country.
Bill was part of a large family from Chicago's Brighton Park neighborhood. He and his twin brother, Harold, grew up with six sisters and another brother. The family were members of St. Agnes of Bohemia Catholic Church, where the twins attended elementary school. When the boys were just nine years old,  they joined their father, Harold E., at the funeral home, Adams and Sons. They helped to straighten up the chapel and even helped to dress the deceased men for the casket.
Bill attended De La Salle Institute, but did not graduate, choosing instead to join the military. In 1951, he enlisted with the the U.S. Navy Reserves, completing Basic Training at Great Lakes Naval Station while his twin brother joined the Army. However, Bill says he always wanted to follow in his uncle's footsteps, who served in the Marine Corps and later rose through the ranks of the Chicago Police Department. "Uncle Joe was my inspiration," he says. "So, while I was on a 10-day leave from the Navy, I went to the Marine Corps recruiting station and signed up. I was not supposed to do that, but they let me get away with it."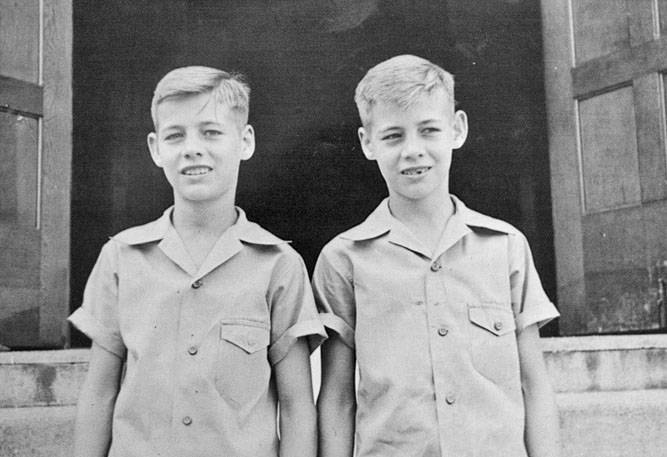 In January 1952, Bill reported to Marine Corps Recruit Depot, San Diego, for 13 weeks of Basic Training. The experience was brutal, he says. "They beat the (heck) out of you." Yet, he survived the experience, and reported to his next assignment at Marine Corps Rifle Range Camp Matthews. Bill trained at the rifle range for another three months, learning how to carry and operate 50 and 30 caliber machine guns. "If you didn't pass on the rifle range, you would have to go through it all over again until you learn how to properly handle your gun," he says.
After successfully completing rifle training, the Marine Corps sent Bill to Camp Lejeune, North Carolina.  While there he received additional instruction on the use of heavy equipment, such as bulldozers and cherry pickers. Bill would not use these skills, he says, because he was shipped out to Camp Pendleton, California, for infantry training. This stint included mountain warfare training at Pickel Meadows, located in the Sierra Nevada Mountains. "We climbed up that mountain for seven hours, reaching a height of 5,000 feet," he says.
When the Marine Corps asked for soldiers to volunteer to fight in Korea, Bill stepped forward. "I was ready." He and approximately 5,000 other Marines boarded a Merchant Marine vessel and headed to Korea, stopping in Japan to pick up an additional 500 Army personnel. When he finally arrived in South Korea in October, the weather had already turned cold.
Bill was stationed at Kimpo AFB, located 40 miles outside the capital of Seoul. He was among a handful of Marines stationed at the base. His unit patrolled the perimeter of the base using M3 Half Track vehicles, a hybrid tank/truck which featured a wheeled front axle with rear tracks. The vehicles were mounted with 30 and 50 caliber machine guns and could haul large amounts of ammunition or troops. He only spent a month at the base before heading to the front lines.
After leaving Kimpo AFB, Bill joined the 5th Marine Infantry Regiment, which had taken up position along the Han River. By this time, fighting between the Chinese and UN forces had ground to a stalemate, he says, and his unit was responsible for holding the line. As a rifleman, Bill carried both the 30 caliber gun and the heavier 50 caliber, which required the use of a tripod. They moved frequently, he said, and Bill needed to carry all the equipment with him. "One of the hardest assignments was night duty," Bill says. "The Chinese would row boats over the river for a sneak attack. I was out there by myself, and I would just kill all the Chinese that I could. I was scared to death."
The days were long and grueling, Bill says, with few breaks. The Korean winter was bitterly cold, and the troops only received hot meals every third day—if they could return to camp. They were forced to survive mostly on c-rations. "If we made it back to camp in time, we were served steak and eggs. It was a real treat," he says.
Bill enjoyed the support and camaraderie of his fellow soldiers, who he called a "nice bunch of guys." His unit included a fellow Chicagoan who hailed from the Back of the Yards neighborhood. They were also camped near other NATO forces from Canada and Australia. The Korean War Armistice was signed on July 27, 1953, and major hostilities ceased. "After the war ended it was very boring," he says. "We were always training. But it was still dangerous. The enemy would still attack us. We weren't allowed to walk on top of our bunkers."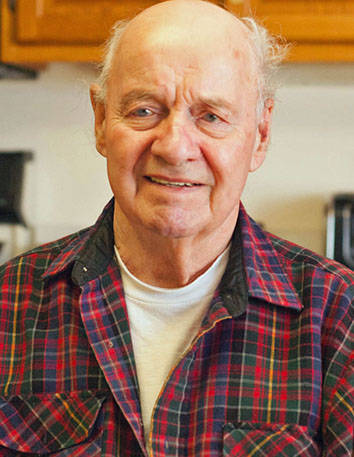 Bill was sent to the 1st Marine Division headquarters. During this time, Bill witnessed the POW exchanges at the "Bridge of No Return," which spanned the Sachong River near Panmunjom. "Our guys were in real bad shape," Bill says. "The Chinese starved them to death." Happily though headquarters received a USO visit from actress Marilyn Monroe. Bill was serving mess duty that week. "I had the honor of waiting on her hand and foot," he says. "Marilyn gave me a big hug and a kiss. It was the highlight of my life in Korea."
Bill would spend a total of 22 month in Korea. He had a fight with a sergeant that resulted in disciplinary action, leading to the extra time. He left Korea in August 1954 and returned to Camp Lejeune for the remainder of his enlistment. He was honorably discharged as a Private First Class in January 1955.
Bill then returned to Chicago a took a job with a ceramic tile company as a tile layer assistant. He later finished his high school degree and began working as an operating engineer for Cook County Jail.  In 1958, Bill married Marge, a fellow Brighton Park resident. They eventually settled in Oak Lawn where they raised four boys. Bill returned to the Navy Reserves in 1979, for a two year enlistment. The couple now enjoy spending time with their eight grandchildren and one great-grandchild.
We are thankful for your service, Bill, and we wish you a wonderful Honor Flight.