U.S. Army   Korean War   Alsip, IL   Flight date: 04/11/18
By Nancy Angel, Honor Flight Chicago Veteran Interview Volunteer
Eugene "Gene" Bylina graduated from high school in 1951. After a couple of other jobs, he started working for the Santa Fe Railroad as an engineer, running diesel locomotives carrying freight, out of the Corwith Yard near 49th and Archer. While working there, he was drafted into the Army in February of 1954. He was sent to Fort Leonard Wood, Missouri for Basic Training. Basic Training included a lot of physical conditioning and running, as well as training for proficiency with firearms and hand-to-hand combat. Based on his work history, Gene was reassigned to a transportation battalion and transferred to Fort Eustis, Virginia, for further training specific to transportation. While there, an opportunity arose to volunteer to go overseas, and Gene signed up. He thought it would be a new adventure.
Shortly thereafter, Gene was sent to Fort Lewis, Washington and from there he boarded a troopship to Pusan, Korea. The trip overseas was crowded; the men slept in bunks stacked five high and had to go up on deck to get fresh air. They hit some rough water on the journey and there were a lot of men who got seasick, but fortunately for Gene, he was somewhat of a sailor so he fared OK. Upon his arrival in Korea, he was assigned to Company C, the 724th Transportation Battalion at Yong Dong Po near Seoul. He was sent to Korea with the title of trainman, which would involve working in the trainyard, operating the switches and other tasks. When he arrived, his commanding officer looked at his record and his experience. He said, "We don't need any more trainmen, we need engineers," so Gene was reassigned as an engineer. According to Gene, it was good duty. They were housed in apartments, with about four or five GI's to a room, with each having their own space. They had a young Korean houseboy who did various tasks like shining their shoes and running errands for the men. There was a mess hall where they had their meals and a PX where they could buy snacks and other items. A favorite treat from the PX, for both the GI's and the houseboy was ice cream.
Gene's  job was to drive diesel locomotives hauling train cars of ammunition, food, K rations and other supplies. Supplies arrived by ship into the port city of Incheon and were transported by rail from Incheon to Seoul or sometimes to the demilitarized zone. The U.S. Army used the Korean rail system, but the train engines were diesel locomotives brought over from the United States. The working hours for the engineers were not regular; the train runs could be at any time, day or night, largely dictated by when the ships came in. At times the runs required an overnight stay, so Gene would get a room in Incheon before returning to Seoul with the freight. Sometimes Gene would drive a "glory train" transporting the bodies of fallen American soldiers in wooden boxes. When these trains passed through the countryside and towns, the Korean people would line the rails with their heads bowed to pay their respects. Although the war had officially ended by the time Gene arrived in Korea, occasionally the train engineers were shot at while driving the trains through the countryside. Most of the time, though, they were driving through remote and desolate areas. While spending time at the rail yards, Gene became friends with some of the Korean engineers. He was thrilled when one of the Korean men allowed him to drive one of the Korean steam engines. He had always wanted to drive a steam engine and recalls how much fun it was.. Eventually, the U.S. Army turned the railroad back over to the Koreans and no longer needed engineers, so Gene and his colleagues became part of the infantry.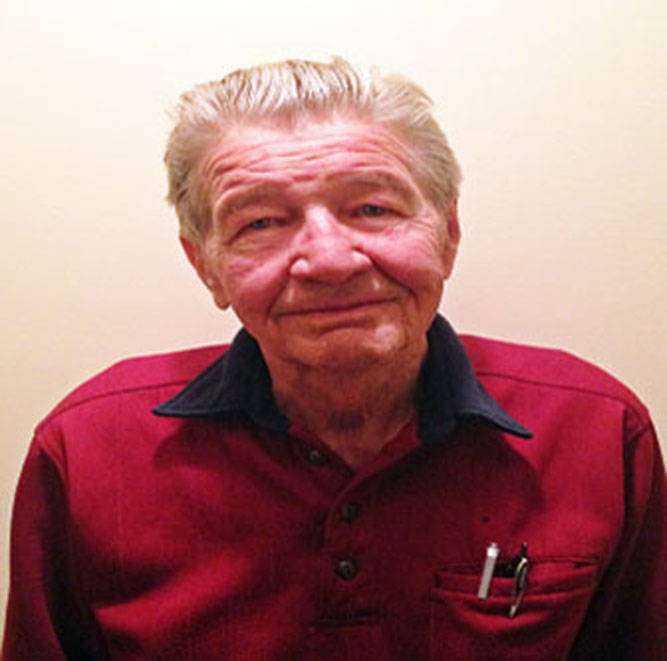 While in the infantry, Gene's accommodations were not nearly as luxurious as the housing in Yong Dong Po. Initially, they lived in barracks some distance back from the demilitarized zone.  Then they were moved closer to the demilitarized zone and into 5-man squad tents. As the name would imply, these squad tents were constructed of canvas and had no running water. The men slept on cots, using sleeping bags as needed for the cold nights, and also had two oil burning stoves in each tent for warmth. Part of the responsibility of the soldiers patrolling the camp at night was fire watch, which consisted of going into the tents and checking the fires in the stoves for safety to ensure the tents didn't catch on fire. Gene's main job in the infantry was guard duty in the demilitarized zone in addition to keeping order and preventing unauthorized people from passing through. Sometimes there were people trying to escape North Korea. The guards had to search them to determine if they were just people seeking a better way of life or if they were booby trapped with explosives. For part of the year, the weather was very cold and snowy, making guard duty unpleasant. During part of his time in the infantry, Gene was also a jeep driver, driving the commanding officer and other officers. Gene remembers that the officers were good guys and driving them was fun.
Gene recalls "Kooji boys" – orphaned or abandoned children living on the streets that they would see around the compound. After the soldier's meals, they noticed the children would scavenge in the garbage for the food scraps. Gene, like some of the other soldiers, befriended some of the children and would take extra food that they could set aside and give directly to the children so they didn't have to dig in the garbage. They would also look out for and protect some of the younger children who were bullied by the bigger, older children trying to survive on the streets. Gene notes that memories of these orphan children and other very difficult conditions in a war-torn country has always stayed with him and reminded him how fortunate we are in the United States.
There were some good times as well during Gene's time in the service. He remembers that there were dances nearly every night hosted by different troops and held in the clubs at various posts. Gene's photo album contains pictures of himself with some of the local Korean women who attended the dances with the GI's. He says the dances were a lot of fun. He was also sent over to Japan a couple of times for three or four days of R & R, enjoying the sights and sounds of Tokyo. He also has fond memories of going to Haeundae Beach, another location for R & R in Korea. Back in Yong Dong Po, Gene and some of his buddies would sometimes go hunting in the nearby mountains when they had some free time.
Gene's 24-month tour in the army was due to be up in February 1956, but he was sent home in December of 1955 as part of the "Christmas drop." The Army would send GI's whose time was almost up home a few months early so they could be there for Christmas.
When he got back home, Gene went back to work for the Santa Fe Railroad for a few years. His time in the service counted toward his seniority with the railroad, so his seniority was fairly high. He later went to work for United Airlines for 37 years, starting out in accounting and ending up as a sales representative. Gene also married and had children.
When asked how his time in the Army affected the rest of his life, he says that, having seen some of the poor conditions and desperate people he saw in Korea, he is grateful for how lucky he and his children and grandchildren are. We have Gene and all servicemen to thank for the freedoms and good things we enjoy in this country.
Thank you Gene for your service and sacrifice during the Korean War. Enjoy your well-deserved day of honor in Washington, D.C.!