U.S. Army   Korean War   Sandwich, IL   Flight date: 04/11/18
By Roseann Elliott, Honor Flight Chicago Veteran Interview Volunteer
John Martin was born on November 27th 1931, in Aurora Illinois, where he lived with his parents and older brother Everett, who served in WII at the Battle of the Bulge.  John graduated in 1949 from East Aurora High School at the age of 17. After graduation, John worked as a meat cutter at Sanitary Cash Market where he met his wife Carol.  Carol had lived in Yorkville and commuted to work with a fellow employee who was a friend of John. John and Carol married in November of 1953.
In January of 1955, four months after the birth of their first child, John was drafted into the Army.  John did his Basic Training at Fort Bliss in El Paso Texas. After completing Basic, John was assigned to Fort Benning, Georgia for advanced training to be a 1st gunner for an M42 anti-aircraft weapon system. So John, Carol and baby daughter Mary Lou headed to Fort Benning. They lived off base in Columbus Georgia during  the 16 weeks of training. While at Fort Benning, John's wife Carol gave birth to their second child, Steve.
During this time John had to leave his young family for maneuvers at Fort Polk, Louisiana. John traveled to Fort Polk in a convoy that took several days.  They slept in pup tents that they pulled in trailers with their jeeps. John was the jeep driver for the battery and platoon leader for a team of 5 soldiers. They were all assigned to the 3rd Infantry, 41st Field Artillery Battalion, Battery D.  
One of John's most vivid memories from the Army happened at Fort Benning. As a guard he was issued three rounds of ammunition. He said at the time he had no idea what to do with the rounds, so he put them in his shirt pocket. When two soldiers showed up and wanted to get in, he turned them away. At that point he put a round in his pistol. The soldiers left but to John's surprise they returned shortly after with the Commanding Officer.  After the incident guards were no longer given ammo!  John found himself driving a jeep instead of leading the platoon.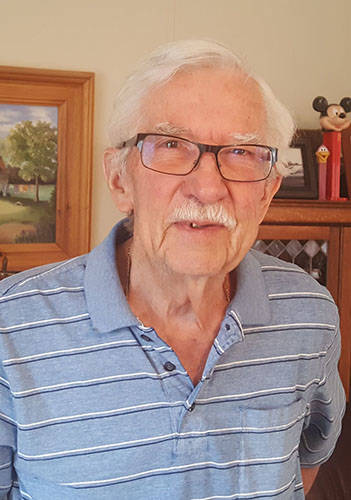 While driving a jeep for the Commanding Officer, John was told that they were going to be picking up some "roses" for the commander's lady. This turned out to be a code for picking up Four Roses Whiskey. I'm sure no one was fooled by the secrecy around this "code."  
John was discharged in January of 1957, after serving for two years. John and Carol moved back to Aurora where they raised their family including three more children  Karen, Tom and Greg.
John worked at NCR, a financial equipment company for many years as a field engineer and repairing equipment.  In 1993, John retired then relocated to Gilbertsville, Kentucky in 1994. In 2008, he returned to Illinois, moving to Sandwich.  John likes to spend his time at Fox Valley Older Adults where he plays cards and goes on various trips with the other seniors.
John is honored to have been chosen to be a part of the 83rd flight for Honor Flight Chicago.  
John, on behalf of Honor Flight Chicago, we thank you for your service and hope you have a memorable time in Washington, D.C.