— By Denise Freimuth
My father was a World War II veteran. He was 53 when I was born, and we were clearly from very different generations. As for me, I served 20 years as a Cyber Warfare Officer for the U.S. Air Force. I served two tours in Iraq before I retired this past April.
My father and I never saw eye to eye. That is, until I experienced the same thing he went through more than six decades earlier.
When he returned home from service, he basically felt that he was forgotten. No one made a big deal about the courage he demonstrated or the sacrifices he made. When I returned from my first tour in Iraq, I felt the same thing. No one said anything to me. My family picked me up from the airport, and then I went back to work as if nothing had happened. I wasn't looking for a parade, but it was hard to not receive any sort of acknowledgement.
That is why I knew my day as a Guardian with Honor Flight Chicago was going to be emotional. Now that I've had a few days to recover, I confess that I underestimated how emotional it would be.
I had the pleasure of traveling to Washington, D.C. with 108 World War II and Korean War veterans on July 12 as part of Honor Flight Chicago's 79th Honor Flight. It was overwhelming to see all the people saying "Thank you for your service" to our veterans. I have walked in these veterans' shoes, and the words of gratitude are priceless.
Our senior war heroes have spent more than 50 years thinking this nation lived under the blanket of safety without a second thought to the men and women who fought for it. Honor Flight Chicago's day of honor for these veterans changed that. It was crystal clear to them — and to me — that people appreciated their service and that people haven't forgotten.
I spent my day assisting Moe Maw, a Korean War veteran who lives in Woodstock, Ill. Moe was not a man of many words, but we hit our stride together quickly. I knew when he'd need a napkin, and I'd just hand him something without him even having to ask for it.
At the end of the day, he told me that when he talks about the day, he's going to mention me first because I helped make it so special. I was flattered, but I said that would be a mistake. The day was made possible because of all the people who donate time and money to Honor Flight Chicago, not me.
Today, I am a Sayers Senior Project Manager, and I'm proud that my company recently donated $25,000 to Honor Flight Chicago. I had quite a few coworkers who came to the Welcome Home ceremony at Midway Airport. I spoke with everyone from the company afterward, and each said that the ceremony touched them. My boss brought his 18-year-old son to the celebration, and now his son can't stop talking about the experience.
So, on behalf of Moe Maw and all the other veterans on the flight, please allow me to say thank you to everyone who was so gracious in their praise and thanks. Your words meant the world to us.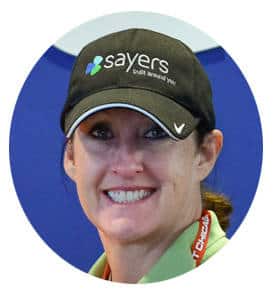 "I knew my day as a Guardian was going to be emotional. I confess that I underestimated how emotional it would be."