U.S. Air Force  Korean War   Batavia, IL   Flight date: 05/09/18
By Ellen Walsh, Honor Flight Chicago Veteran Interview Volunteer
Ken grew up on Chicago's South Side and attended Catholic schools.  After his high school graduation, he didn't attend college as he didn't care for books.  "I decided to hang around the house and drive my mom and dad nuts. However, after aggravating many people, I decided I needed to push my draft number up and get out of here."  In September of 1954, Ken and his older brother joined the service together, his brother joining the Army and Ken joining the Air Force. "Looking back, this was my four years of college; it was an all-around wonderful experience – I really enjoyed it."
Ken enlisted with his friend, Bill.  They completed their paperwork at a downtown Chicago office, asking to do Basic Training together. Being very persuasive, they were able to board a train together for Ithaca, NY.  From there they took the bus to Sampson AFB. "We were in line, getting off the bus, looking around, I still had my civvies on, and a kid sitting outside one of the buildings yells at us 'you poor suckers' – I will never forget that."
Ken looks back and thinks that Basic Training was the best thing that ever happened to him in the service.  "It wasn't that I was a wild kid, I just had a lot of wild and goofy things I was doing. The service helped nail me down and straighten me up."
After completing Basic Training around Thanksgiving, Ken took his first flight ever to Lowry AFB near Denver CO. for 8 weeks of Basic Electronics School. It turned out the Air Force was looking for instructors. Upon completing the class, a presentation was required, meaning Ken had to present as if he were teaching the class.  "Presenting in front of a class was not in my wheelhouse – I was scared to death. I took mechanical drawing in high school and was comfortable with that and put together a prepared presentation." Ken did so well that when he received his orders, they were for a Basic Electronics Instructor at Lowry AFB. He did this for a year and a half and really enjoyed it.
After completing his basic electronics class, Ken went home on leave.  He was able to purchase his first car, a '53 red Ford convertible. It was customized by the first owner, including duals and glass packs, and he drove it back and forth to Chicago many times. He loved his car…and still does! His brother was in nearby Greely and borrowed his car frequently, so when Ken received his orders for Japan, he gave his brother his car.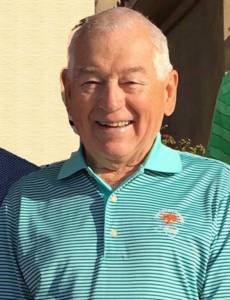 Before leaving for Japan, Ken played baseball and joined the base bowling team.  The captain on the bowling team really wanted to win a trophy, so his bowling team became very competitive. Because Ken had a car, he was able to drive to compete in different tournaments.  Ken recalls one time when they went to Cheyenne, WY to compete in a tournament. "We were crossing a railroad track and I was struck by the landscape. I thought, this is just like a John Wayne movie.  I just couldn't believe what I saw."
Around November of 1956, Ken left for Japan on the USS Patrick, a troop transport ship.  The trip was supposed to take seven days, but it took fourteen due to rough weather. "I still see all these guys who were sick, leaning over the side, or sitting with bucket.  To this day I still have no desire to ever go on a ship again."
Ken's training and experience was with the F100, a day fighter bomber. He was assigned to Yokota AFB, 418th Fighter Day Squadron.  The first time he saw the APG-30 radar system and bomb site he was to work on, it was in the back of a WWII vintage B-29.  Ken reflects on the first day he was shown the plane when he thought "what in the hell is this and is this what I am going to face until I go home?  I want to be around the fighters!" He was only there about three months until he transferred to Kadena AFB, Okinawa, Japan where they had the F100's.  He was there for about six months before they moved him to the Philippines.
During his time in the Philippines, he had a TDY (Temporary Duty Yonder) to Taiwan for about 7 or 8 days. "It was quite an experience.  The squadron was over there, and as you were driving out to the barracks where we were staying, we saw the pill boxes with guns out, and I'm thinking, this is the Chinese, this is Taiwan, and this is real.  Then we went out to the flight line where the F100's were, and the Chinese had their F84's with real bombs underneath the wings, and again I am thinking, wow this is real."
Ken didn't want to re-enlist and received a three month early release.  "We flew back on Tiger Air Lines; it was a beautiful day. The plane dropped down about hundred feet and the the pilot came on and asked if we felt that – we just crossed the international date line."
Ken came home, returned to work at Jewel and continued to work there until 1967.  It was there that he met his wife, Nancy, through his cousin. "We just clicked and got married in 1960 with an all Jewel wedding."  They wanted to start a family right away and had three boys: Ken in 1961, Mark in 1962 followed by Dan in 1963.
Ken decided to change careers and through a friend went into the trucking business, starting with Roadway and retiring from Yellow in 2000, concluding his second career.
Ken and his wife Nancy are very close to their family and friends, and are able to do some traveling with them, as well as traveling as a couple.  They spend their winters in Goodyear, AZ. When they are home in Batavia, they remain very active in their church.
Welcome home Ken Koehler and thank you for your service! Enjoy your well-earned Honor Flight trip!