U.S. Army   Korean War   Norridge, IL   Flight date: 07/12/17
By Ellen Walsh, Honor Flight Chicago Veteran Interview Volunteer
Can you keep a secret?  For many years Pat Gerard wasn't allowed to talk about what he did during his time in service.  But today, he can tell us about the contributions he made to help make our country safe.
In January 1953, Pat graduated from the University of Illinois with a degree in mechanical engineering. He had been deferred twice as a student, but after graduation the military didn't waste any time in drafting Pat.  In March 1953, at age 22, he was inducted into the Army.   He was sent to Fort Sheridan near Chicago before basic, but wound up staying there for a month, helping to interview new recruits.  
Finally, Pat was sent to his basic training at Camp Breckenridge, Kentucky.  At that time, the camp was being used as a training school.  Pat was there for about 10 weeks.  Because of his background and training, the Army tried hard to convince Pat to become an officer.  But he refused — that would have required a four your commitment, and he had been drafted for only two years.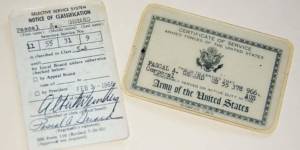 However, his degree in mechanical engineering did drive his assignment to the Redstone Arsenal in Huntsville, AL.  At the time, the Arsenal was a secret Army Ordnance Corps base for the development of ballistic missiles.  After WWII, it had become the home to the German rocket scientists that the US had recruited at the end of the war.  The Ordnance Rocket Center was there, with the mission of developing and testing a surface-to-surface ballistic missile with a range of up to 500 miles.  The technical director was Wernher Von Braun, who is credited with inventing the Nazi V-2 rocket.  The V-2 was a guided missile, unlike earlier rockets.
"It was a kind of interesting situation though; the place was run by the Germans.  All the administration were former Germans, most coming from Peenemunde who made the choice to surrender to the Americans instead of the Russians."  Von Braun had been instrumental in protecting over 500 of his team from elimination by the Nazis, and in their surrender to the US at the end of the war.  (They hadn't wanted to surrender to the Russians.)   "He was such a foresighted person; he was looking ahead, to put people in space.  Who would have thought about putting someone in space?  I would look at our rockets and think, who would ever want to get on top of one of those?"  
The arsenal was on a ranch.  "It was a regular ranch with animals all over.  There was a barracks at one end, and every morning they would pick us up and drive us to the facility. That would take about 20 to 30 minutes, then at night they would bring us back to our barracks."  At Redstone, Pat's assignment, even as an enlisted man, was to work with other engineers.  Many of the engineers were civilians, contracted to work for the government.  "At that time, because Redstone Arsenal was secret, and our work was so highly classified, we weren't even allowed to talk to our neighbor in the barracks about our assignment.  Now that I look back, it was a very interesting assignment."  
Prior to Pat arriving at Redstone, the arsenal had tested about six missiles, all of which had failed, blowing up either on the landing platform or in the air.  Pat helped work on test missiles 7 -12.  These rockets were built on site and then taken to Cape Canaveral for firing.
Of course, Pat had been investigated and gotten his Secret clearance.  "Because of the classified nature of the facility, we needed to get permission to leave.  We could get a pass about once a month, and would drive to Chicago on Friday night and drive back on Sunday.   I also was on the baseball team so that kept me busy in the summer.  We had a PX and they had entertainment come in on the weekends, but other than that there wasn't a lot to do – I did a lot of reading."
After two years of service, in March 1953, Pat was discharged from the Army as a Corporal.  Upon returning to Chicago, Pat got a job at AT&T and got married.   He took advantage of the GI bill, and went to the University of Chicago in the evenings for 2 years to earn his MBA.  He credits his engineering and business degrees with helping him to move up through management at the Teletype Corporation in Skokie, which was part of AT&T's Western Electric manufacturing arm.  All this while working and helping his wife to raise their 6 children.
Pat's very proud of the fact that four of his children graduated from Notre Dame, and all are very successful.  His children include a mechanical engineer, an eye doctor, two attorneys, an electrical engineer, and an animator for Disney.  They're spread around the country, and have given Pat 17 grandchildren.   Since retiring from AT&T, Pat has stayed very active in his church, and enjoys reading.  
Pat Gerard, we hope you enjoy your Day of Honor in Washington.  Thank you for your service to your country and to all of us. Welcome Home!