U.S. Army   Korean War   Montgomery, IL   Flight date: 06/07/17
By Marty Zack, Honor Flight Chicago Veteran Interview Volunteer
Willard Fruits was aching to leave the constant hard work of farm life in Missouri. As one of ten children, his family moved him away as a teen from his friends and city life in Chicago. Home was an isolated 40-acre farm which, for him, meant laboring behind a horse plow and doing all the daily farm work by hand.
Knowing he wanted to get away from that life, in 1951, at age 19, he set out on a journey to seek a change. He ended up in St. Louis at the Army recruiting center. His eagerness to sign up was greeted with a grim reminder that the Korean War was on.
"Take me!" was his response.  
He was more than ready and never considered another branch of the service. This choice continued a family tradition started by his father in WWI and three brothers in WWII, with more brothers serving after Willard.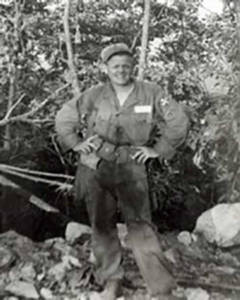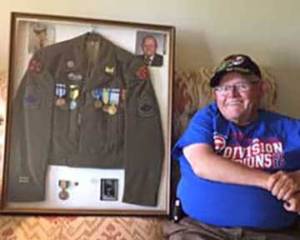 Basic training in Boston was followed by thirteen weeks of intense demolition training in Virginia. Orders came, and he was off to Korea on the USS Massey, a destroyer used for blockade and bombardment support in the Inchon area. When PFC Fruits landed, his sixteen days of KP duty on the ship came to an end. Willard was now just south of the 38th Parallel, the area where he would remain for his entire time in Korea, except for a brief R&R respite in Tokyo.
Shorty's duty as a demo expert meant blowing up bridges. The captain gave orders for the assignment then aerial photographs of the targeted bridge were studied. These pictures were sometimes inconclusive and might not give a clear idea of just how strong the bridge was nor how much dynamite was needed to destroy it. Decisions for the best approach often had to be made upon arrival. Charges were set at night, so hiding until darkness was routine. No comfort from a fire or enjoying a cigarette was allowed to avoid alerting the enemy to their position. Entering the water and locating the most effective placement for the dynamite had to be done quickly. After the fuses were lit, the explosion could occur within five minutes demanding a very hasty escape for Willard and his squad of thirteen. They didn't look back, but knew from the search lights and immediate activity that they were being pursued.  Their plan was to split into small groups, rendezvous by compass, and head back to safety where their password would then allow them reentry.
Stopping the enemy's tanks from using the bridges was the main reason for destruction. However, it could also cause problems. Three months after blowing up a bridge, Willard learned that their troops needed one in the same exact place. Large floaters were dropped and anchored together forming a temporary pontoon bridge over the river. In less than two hours, trucks and supplies were moving across. Problem solved!
Wash day and showers were rarities and might occur only once a month. By that time, Willard said everyone smelled bad, so nobody noticed it. When they were near the 38th Parallel, clothes were washed in the river at night and hung on bushes or barbed wire until daylight when they were quickly retrieved, hopefully dry, so that their location could not be spotted by the enemy.
Mail call was a big event. Sometimes everyone would be called together, and the letters would be passed out. Other times, delivery came to their bunkers or foxholes. Willard remembered mail call as a time when he would sit eagerly reading a much-welcomed letter, but quickly would become tearful, wishing he was back in the States. After 14 months, 21 days, and 22 minutes, he got his wish. One long-awaited day, he was asked by his captain how soon he could be ready to leave for home, and Willard shouted, "Two seconds!"
No KP duty on the way back!  Through battlefield promotions, Willard had become a Sergeant First Class, so he had his choice of jobs and could pull some strings. When asked what chore he wanted after boarding the ship, Willard declared, "I'm doing nothing!", and he didn't. Upon arrival in San Francisco, he and his buddies indulged in a welcome meal of real cheeseburgers, a treat that had been absent for over a year.
"It was a war, not a conflict or police action. I lost some good friends over there," Willard shared, "and it still hurts." He feels fortunate not to have flashbacks, but tears flow easily when he remembers his time in Korea. He avoids talking about the total war experience, especially with his children and never wants to see the day when they or his grandchildren might see the disturbing things he saw. "It was not a pretty picture."
Willard returned to the Chicago area in 1959, and left the farm far behind. Willard used the GI Bill to get his education and attend seminary. He taught junior high students along with pastoring several churches for 29 years. For three years, he was also chaplain at Hines Hospital where veterans would often ask for him knowing he had been in the Korean War and would understand their experiences. After Korea, he married, had three children and is proud that they all achieved their own education goals. He now has grandchildren following the same path of learning.
With many thanks for your service, Willard, we wish you a wonderful Honor Flight trip.