U.S. Air Force  Korean War   Darien, IL   Flight date: 07/12/17
By Charlie Souhrada, Honor Flight Chicago Veteran Interview Volunteer
Mulberry, Kansas – Chicago, Illinois – Bremen, Germany – Darien, Illinois. These four disparate locations on the map seem to have nothing in common. But those four points on the globe share one very important element – William (Bill) Curry. Bill served four years in the Air Force during the Korean War and will celebrate his service July 12 with a trip to Washington, D.C. through Honor Flight Chicago.
Bill was born in 1934 in Mulberry, which is tucked into the southeast corner of Kansas. "Our main street was half-a-block away from Missouri. We were 90 miles south of Kansas City, 28 miles to Joplin and 14 miles to Pittsburg, Kansas. It was mining country and it was pretty rural."
Bill believes the popular Tennessee Ernie Ford song "Sixteen Tons" was written with his father in mind. "He started working the mines as an 11-year-old and when you're working a vein of coal overhead with a pick for that length of time, you develop your body. My dad was a big man, about 6' 2" tall, with a barrel chest that was about 56 inches across and he had no pot belly because his chest ran straight down to his legs!" As the Depression hit, mining started to slow and Bill's dad needed a fresh start. So, after Bill finished second grade, the Curry family moved to Chicago's south side where his father found work in construction. This included Bill's older brothers, Howard, Irvin and Rolly, all of whom later served in the military and lived to tell about it.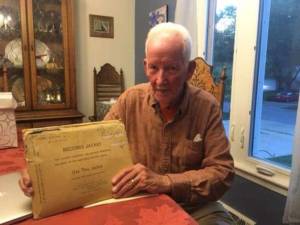 In Chicago, Bill moved through school quickly, graduating from Hyde Park High School at the tender age of 17. Immediately after graduating, he started work at Marshall Field's repairing credit machines. When he turned 18, he left Field's for higher wages and tougher work in an International Harvester steel mill.
Bill decided to enlist and on June 30, 1952, he left Chicago to enter the Air Force. "I was told to come down for a physical, but bring a change of underwear. I then spent the next four days on a train heading down to Lackland AFB in San Antonio for basic training. I had the same clothes on the whole way down, but I did have a change of underwear!"    
At basic, he remembers if a white flag was flying under the American flag, it was a warning to the airmen to take care as temperatures rose over 100 degrees. "I worked in the steel mills and got used to taking salt tablets, so heat was no big deal to me. Then I get down to Texas and don't have salt tablets for three days. One day, while standing in the chow line, the guy in front of me is all wet from sweat, the guy behind me is all wet with sweat and I'm just burning up. I fell out, went back to the barracks and the next thing I know, I'm lying naked on the floor of the shower and all these people are standing around me saying I must be having a stroke or a seizure. They got me to a hospital and put me in a bathtub filled with ice cubes to get my temperature down! I stayed there for the next few days."
In September 1952, after three months of basic training, Bill shipped off to Keesler AFB in Biloxi, Miss., for radio operators school. There, he learned the skill of copying Morse Code. "You can't type as you hear it, you have to listen for what comes next. You have to lag a bit behind and listen for how the sounds fit together."
In May 1953, he reported for assignment at Bremerhaven AFB in Germany, near Bremen, where he used a top security, code clearance to monitor and scan Cold War radio signals as part of the 6913th Radio Squadron Mobile. "We denied sending balloons up across Russia to take pictures. One day, this farmer from outside Bremerhaven shows up and he's got a cart with this gondola thing. It was part of a spy balloon that had come down. All over the gondola it had messages in different languages that said, 'return this to the nearest installation and you will be rewarded!'"      
One Christmas Eve, while monitoring a Polish radio network, Bill picked up a signal that he thought was gibberish and couldn't understand. So, he asked another airman what it meant. His colleague looked at it and started to smile. "I said what's so funny? He said the Polish radio operator's girlfriend just arrived and he was going to shut down the station for a while to charge his batteries and charge her batteries at the same time!"  
Prior to being discharged in June 1956, Bill had to sign a 50 year written commitment not to divulge his top secret action from the service. Eager to apply his GI Bill stipend of $110 per month after returning to the states, he entered Pittsburg State University in Pittsburg, Kansas, and graduated with a bachelor's degree in marketing. After graduation, he started a job in Kansas City, worked there for three months and left after discovering the job wasn't as promised. Just like his father before him, he moved to Chicago to make a fresh start, walked into International Harvester and talked himself into a job. He said "I worked in two different places, including the IH steel mill, and there's got to be a place for me. They asked if I knew anything about computers. I said, 'well my paycheck in the Air Force was an IBM card and I could see my information was on there!' That was good enough for them!"
Clearly, Bill's skills were more than good enough as he moved through a series of roles at International Harvester until his retirement 39 years and 10 months later in 1994. "Everybody says, 'why didn't you stay around until 40?' Because they told me everybody in my group had to be transferred to Springfield, Ohio or be terminated. I chose to be terminated and got an extra year's pay for it!"
Bill and his wife, Judy met on an arranged date and married July 16, 1966. Together, the couple adopted their two children, Greg, who lives in Maryland, and Sara, who lives in Downers Grove. They celebrated their Golden Anniversary last year. The couple now spends their time together traveling, while Bill stays active bowling and fishing.
Thank you for your service, Bill! We hope you enjoy your well-earned, much-deserved Honor Flight!