U.S. Navy   Korean War   Naperville, IL   Flight date: 05/09/18
By Charlie Souhrada, Honor Flight Chicago Veteran Interview Volunteer
Floyd Ermer's parents, August and Margaret, provided him with valuable life-lessons that helped to bring him home safe and sound from Korea. The examples they set followed their son, Floyd, through four years of service in the Navy, including two years aboard a minesweeper in the combat zone.
"The military is all about discipline," says Floyd. "I was used to it growing up. When my dad said to do something, we knew better than to ask why. My mother, for her part, was one of the humblest people I've ever met. She worked like a dog and was a great cook. Growing up, none of us knew what bread from a bakery tasted like. And, when we'd go to a picnic, we knew to look for the food she brought!"
Floyd, along with his six brothers and two sisters, grew up on a 160-acre farm in Sheffield, Iowa. The family grew a little bit of everything including corn and soybeans. They raised chickens, hogs and cows that they milked by hand. "I remember being on the farm before electricity," he says. "In fact, we installed plumbing ourselves after I returned home from the service!" Home wasn't the only place without modern conveniences. For his first seven years of formal education, Floyd attended school in a one-room schoolhouse that also didn't have indoor plumbing. To this day, he marvels at his teacher's ability to manage everything by herself. After graduating from high school in nearby Rockwell, he spent a year working on the family farm. At the advice of an older brother, Floyd enlisted in the U.S. Navy in May, 1951.
During boot camp at the Naval Training Center San Diego, Floyd's test scores earned him an assignment to electrician's school, followed by mine warfare training in Yorktown, VA. After several months, Floyd was sent to the U.S. Naval base in Sasebo, Japan. He was assigned to the USS Curlew, a 136-foot minesweeper with a 28-man crew and a wooden hull that made it bob in the water like a cork. For 30 days at a time, the ship cleared mines in the Wonsan Harbor combat zone near North Korea, then would head back to base for maintenance, refueling and rest. "I'd never been away from home," says Floyd, "but I don't remember getting homesick because there was always something to do."
Aboard the USS Curlew, Floyd's responsibilities included maintenance for all of the motors, generators, cables and facilities related to mine operations. One of his primary duties involved manning a sweep generator control box that sent electronic pulses through the water to detect magnetic mines.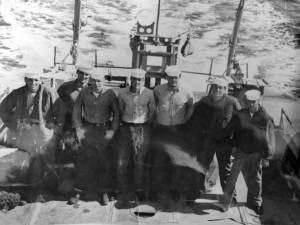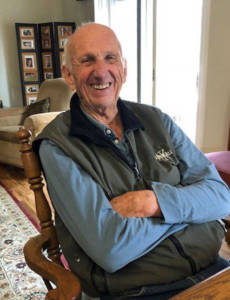 According to Floyd, the Curlew swept for two kinds of mines: acoustic, which were triggered by sound and magnetic, which rested on the harbor bottom. To facilitate this function,  the Curlew had a wooden hull. On a typical day, the crew streamed minesweeping gear with steel cables and cutters to sever the anchor cables of moored mines, off the rear, or aft end of the ship. "When we swept, nobody was below deck," he remembers. "Everybody had a job to do or you pitched in and helped somebody else. There wasn't a lot of chatter or talking." Thankfully, the Curlew never got hit by a mine. "We swept that harbor many times, sometimes in broad daylight, and no one ever bothered us!"
In July of 1953, as the Curlew was headed back to Sasebo after a 30-day stint, the crew was informed that the Korean War Armistice had been signed. As a result, Floyd's time in Asia ended and he rotated out to Long Beach, CA. where he continued to serve on a variety of smaller minesweeping boats, or MSBs, each with a five-man crew.
In May, 1955, Floyd completed his four-year military commitment and returned to his family farm in Iowa. He worked on the farm and helped install plumbing in his parent's house. He enrolled at Iowa State University in Ames in the fall where, thanks to the GI Bill, his tuition was $66 per quarter! "Can you imagine that?!?," he remembers with a grin. After graduating in 1959, Floyd began his career with the U.S. Department of Agriculture (USDA) in December, as a quality inspector based in Albert Lea, Minnesota. "In the summer months, I would work on the vegetable crops and in the winter months, I got sent down to Florida where I worked on the citrus crop."
His USDA career took him throughout the U.S. An assignment in Battle Creek, Michigan changed his life when he met his future wife, Marilyn, a school teacher, through a singles club in nearby Kalamazoo. The couple married in 1969. In 1975, Floyd assumed responsibility for the USDA office in Chicago, and the couple settled in Naperville where they raised their four children: Eric, Mark, Sara and Susan. In 1992, Floyd retired from the USDA as a regional director. In 1993, he decided he was too young to sit idle and began a second career working for Naperville School District 203 as a lunch room attendant. In 2003, he finally retired as a campus supervisor at Naperville North High School.
Floyd now spends his time attending morning mass almost daily, sharing frequent breakfasts with friends at a nearby McDonald's, working out and enjoying visits to a family vacation home in Traverse City, Michigan.
Thank you, Floyd,  for your service. We hope you enjoy your well-earned, much-deserved Honor Flight!