U.S. Air Force  Korean War   Highland Park, IL   Flight date: 05/09/18
By Gary Lenhoff, Honor Flight Chicago Veteran Interview Volunteer
Bill Fishman was born in 1929. Chicago born and raised, he graduated from the University of Illinois – Navy Pier and went on to study medicine at the University of Illinois College of Medicine in Chicago. While in medical school Bill joined the Air Force Reserve with the knowledge that he could be called to active duty at any time.  Upon graduation in 1955, Bill was called to serve. After six weeks of intensive training at Randolph Air Force Base in San Antonio, he was assigned to RAF Sculthorpe in Norfolk, England.
Sculthorpe became home to the 49th Air Division (Operational) in 1952 as well as the 47th Bombardment Wing.  To counter the Soviet threat to Western Europe, NATO decided to expand its tactical nuclear force and introduced the American B-45 Tornado to the UK.  As a result, by 1957 Sculthorpe hosted more than ten thousand military personnel, making it the biggest US Air Force base in all of Europe.
Bill served as a Captain and a Flight Surgeon at Sculthorpe. In addition, he studied the physiological impacts of rapid changes in altitude and other effects of flying on aviation personnel. Prior to joining the Air Force, Bill had never before been on an airplane.  Nonetheless, when asked in a questionnaire during training whether he had experienced any physical problems when flying he answered "no" never stating he had never flown. He went on to make more than 50 flights during his two years at Sculthorpe and also did physical examinations for hundreds of pilots and other personnel.
Bill recounts a favorite story of his time in England.  Captain Louis "Louie" Whitman needed to fly to a Naval Air Force Base in Naples, Italy and invited Bill to join him for the trip.  The two officers departed on a sunny, clear Friday afternoon. While passing over the English Channel, Pilot Whitman began to have trouble with the aircraft's radio compass, substantially hindering their ability to navigate.  Whitman contacted a French air controller, who asked him to describe the terrain he saw. Whitman described a "small village with a winding river meandering through it off to the left." Bill shouted to Louie in an effort to get his attention, but Whitman ignored him and continued in his conversation with the controller.  Finally, Fishman emphatically shouted "Louie, that's the Eiffel Tower in the distance!" When relayed to the controller, he had an instant fix on their location just outside of Paris, France.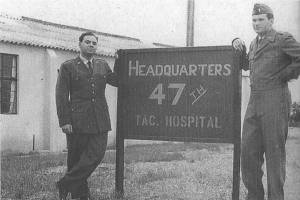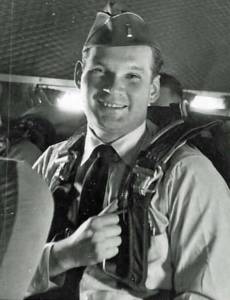 Fishman suggested to Whitman that he had never visited Paris, and perhaps they could land and spend some time in Paris instead.  Whitman politely declined, admitting to Bill that he had a date with a woman in Naples. After repairing the radio compass, the two continued their journey only to have the compass fail again on them shortly thereafter.  As it was growing dark, Whitman was forced to navigate by the full moon as he once again attempted to raise help on the radio. The plane was now running low on fuel, and Whitman's "Mayday!" transmissions were answered by "Billy 1" and "Charlie 1" — two air controllers in Italy and Yugoslavia, respectively, who guided the plane to an airstrip at Villafranca AFB in Verona, Italy.  Running on emergency fuel, Whitman expertly guided the plane to a flawless landing on an unlit runway.
Bill Fishman recalls this as his first encounter with a life-threatening situation, and proudly shared with his children many years later that he never suffered a sense of panic through the entire situation.  In fact, Bill recalls his years of service as a "wonderful experience, where he matured and grew as a person."
In 1957 Bill returned to Chicago, where he would meet his wife Carole on a blind date; they married in 1960. Together they raised three sons who now are in Los Angeles, Las Vegas and Chicago.  Bill went on to practice cardiology for more than 40 years in the Chicago area. At age 89, Dr. William Fishman considers himself a very lucky guy. "I've had a great life" he says, and you can hear it in his voice as he recounts his many happy memories.
Dr. William Fishman, we thank you for your service to your country. Enjoy your well-deserved Honor Flight!