U.S. Army   Korean War   Barrington, IL   Flight date: 05/09/17
By Jim Parker, Honor Flight Chicago Veteran Interview Volunteer
From a young age, Dale Buhl had the ability, desire and talent to inform and entertain. He became a popular radio sports reporter for the Armed Forces Network (AFN) in Germany. Yes, Dale had talent, but the story is how the Army almost missed it. Dale was born in Dubuque, Iowa in November, 1933. As was common during the Depression, his dad held several jobs, often working two at a time. Dale's mother was a classical singer who was featured soloist in the Augustana College choir and performed throughout the Quad Cities. It may have been from his mom that Dale received his singer's voice and "radio chops."
When Dale was still a youngster, the family moved to Davenport, Iowa. At Davenport High School, Dale was a good student and was the editor of both the school newspaper and yearbook. During high school, he developed his interest and talent for music, public speaking and writing. Upon graduation in 1951, he enrolled in the University of Iowa with a major in Radio Speech-Journalism. His broadcast career began on the University radio station, WSUI. He also stayed busy with his speaking and writing.  After two years at the university, Dale decided he wanted to see the world and save some money to complete his studies, so he enlisted in the U.S. Army.
Dale's military career started with Basic Training at Fort Bliss near El Paso, Texas. From there he and five others were assigned to attend the U.S. Army Cryptologic School at Camp Gordon, Georgia. During the first half of their 12 week training, they were being evaluated by federal investigators for the high-level security clearance that was necessary for a cryptologist who would be dealing with highly classified documents. After waiting three months for word on their clearance, they were all classified as Company Clerks and sent overseas.
Dale went to Nuremberg, Germany with the 371st Armored Infantry Division. His new world of 201 files and Morning Reports did not really satisfy his creative mind. A buddy suggested that, with his voice and experience, Dale should look into the Armed Forces Network (AFN); Dale was unaware of the AFN. It was the only English language channel in Germany. He went to an AFN satellite station in Nuremberg and hooked up over the phone with the civilian sports director of the network. After a few questions, the director liked Dale's voice and training in broadcasting and asked him his favorite baseball team. When the response was the Chicago Cubs, he was asked to make up a play-by-play from memory, correct names and all. He did the same with a fictitious basketball game featuring the Iowa Hawkeyes. A short time later he was in bivouac, sitting on a hill eagerly digging into his K-ration meal, when a lieutenant drove his jeep into the Company area and yelled in a voice clearly intended to get everyone's attention, "Private Buhl!" Dale scrambled to his feet and made his way down the hill, thinking he was in serious trouble. "Don't you like us, Private Buhl?" "Yes sir," said Buhl. "Then why did you ask for a transfer to AFN in Frankfurt?"  Buhl felt a hundred eyes boring holes in his back. He was driven back to the barracks, got on a train and reported to the sports director in Frankfurt. He was back in radio.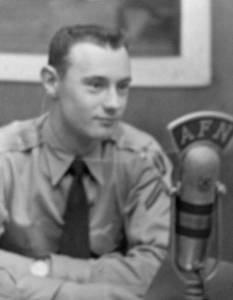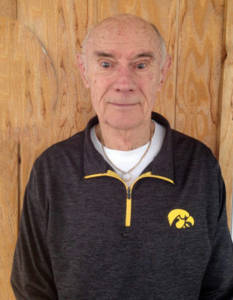 Life at AFN was quite different than life in the 371st. The station offices and studios were not on an Army post but in a 14th century castle on a hill overlooking the Main River, surrounded by a moat, in the town of Hoechst, six miles from Frankfurt. Von Bruening Castle is believed to be the oldest building to ever house an American radio station. He was billeted on the second floor of the tower and the studios were at the other end of the green estate. Dale worked with both military and civilian employees, creating a unique Army experience.
His job was compiling American and military sports news and presenting it over the air on daily broadcasts to thousands of military, NATO and embassy personnel. General Dwight D. Eisenhower, created the AFN  in the mid 1940's as American troops in England grew tired of the stiffness of the BBC radio programs. Many of his soldiers preferred the German propaganda channels because they played better music. The BBC didn't like sharing its audience so when AFN was created in 1945, its headquarters was established in Germany.  It was instantly popular with the troops and the locals, many of whom learned to speak English from the broadcasts.
By the time Dale arrived in the mid 1950's, AFN was playing early Rock'n Roll music that was very popular with the young soldiers of the large occupation force. Sports were also popular with the troops and Dale would broadcast news of the important events of the time, including the 1955 World Series in which the Brooklyn Dodgers won their first-ever title. He also reported hole-by-hole ticker-tape reports of the San Francisco US Open, in which Jack Fleck  (also a Quad Cities native) upset Ben Hogan. Dale had once shagged balls for Fleck at a Davenport, Iowa municipal golf course. He also recorded interviews with Casey Stengel, Esther Williams, Bud Wilkinson, Frank Leahy and other visiting notables. One of Dale's announcer buddies was Nick Clooney, brother of Rosemary, and father of Hollywood's George Clooney. Dale's duties also required play-by-play of sports events around Germany. He also found time to play basketball for an Air Force base team and played the stand-up bass in the AFN combo.
When Dale's military service ended in early 1956, he picked up a radio job at WSDR in Sterling, Illinois. In the fall, he returned to the University of Iowa where he met a young Miss State University of Iowa candidate in one of his classes. Her name was Bobbi Popinger from Cedar Rapids, Iowa. They married in August of 1957. She became a middle school teacher in Davenport. After graduation in 1958, Dale was hired as a reporter by WRMT Radio and TV in Cedar Rapids. After moving there their first child Jeffrey,was born. In 1960, Dale was hired by KRNT Radio and TV in Des Moines, Iowa, as the morning radio news anchor, also doing some television news and many high school sports play-by-plays. In 1965 their daughter, Stephanie, arrived. Dale became very involved in the community as a board member of Goodwill Industries and was one of the creators of the Iowa Special Olympics.
Dale left full-time radio and TV in late 1968 to become the associate director of tourism for the State of Iowa. In the 1980's, he entered the financial industry as a marketing director for banks in Des Moines, Minnesota, and Missouri. He continued to freelance as a sportscaster. He also took up marathon running at age 45.  In 1991, Dale turned his hobby as a "birder" into a retail store called "Dale's For The Birds."
In 1999, Dale and Bobbi retired to Sun City Grand, a senior community in Surprise Arizona.  He continued his running while also pitching in competitive softball and doing some volunteer television work. Bobbi was a candidate for Ms. Senior Arizona in 2006. In 2013, the couple moved to Barrington, Illinois, to be close to their daughter. Dale enjoys singing in his church choir. Dale and Bobbi have two grandchildren, Emily and Christian.
Honor Flight Chicago is honored and proud to welcome Dale Buhl aboard our May 9, 2018 flight.