U.S. Army   Korean War   Arlington Heights, IL   Flight date: 05/09/18
By Jack Walsh, Honor Flight Chicago Veteran Interview Volunteer
Ed Budenieks has seen and gone through a lot in his life.  Perhaps that's why he seems to be so matter-of-fact about his experiences in Korea.
He grew up near Riga, Latvia.   In June 1940, when he was about 11, Russia invaded and occupied Latvia.  (Author's note:  The Red Army occupied Latvia for about 12 months, but it was a "year of terror."  During that year of occupation, about 35,000 Latvians were deported to the USSR, many to Siberian prison camps.  Source: Wikipedia, April 2018)  His uncle, a policeman in the small town of Kuldiga, was shot. "My wife's brother was in high school, in the last class, and they were very nationalistic, and against the Communists.  They were deported to a Gulag labor camp in Krasnoyarsk, Siberia as were other relatives of his father. We found out in 1949 that my uncle had died in 1942 of starvation."
Then in mid-1941, the Nazis invaded. "Under the Germans, everything was better and we thought we might be able to regain our independence.  But the Germans wouldn't agree, and we had to follow the rules. In late 1944, when Riga fell into Russian hands the second time, my father said 'That's it, we have to move. We have to go where the U.S. troops are."  Ed was about 15 when his family left through Poland into Czechoslovakia and on to Germany.
First they were in a little village in the Nuremberg area.  There was a group of four families from their home town, including his high school English teacher. They wound up in the same area in a refugee camp near Kleinfalz. "The Russians right away were trying to get us back, which would have meant Siberia.  Finally General Eisenhower declared the Baltics off limits."
Next his family was transferred to a refugee camp near Hamburg.  His family (father, mother, Ed and two brothers) were in a small camp full of Latvians, located in an old concentration camp barracks. Ed graduated from high school in 1949.  The whole time, they had been attempting to go to America. Finally in 1949, when Ed was twenty, a U.S. Army major who had a Mississippi cotton plantation, sponsored a large group, including Ed's family, to go to America to become U.S. residents.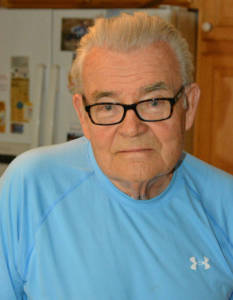 In May 1949, Ed and his family sailed, along with 800 other Latvians, arriving in New Orleans. Next they boarded a train which kept dropping groups of people off at different locations along the train route. Finally, they got off outside Senatobia, MS about 40 miles from Memphis, TN. A farmer, who was also a local school teacher, met them and about five other Latvian families.
They started working on a cotton plantation plowing from sunrise to sunset, for $2 a day. They stayed in thin walled shacks; his mother complained the walls were so thin she could put her hands through them. Their work on the plantation included picking cotton. After 3 months, when most of the farm work was done, he got a job cleaning the brush in irrigation ditches.  "It was hot and dirty and I finally had enough. So in August of 1950, I got a job in Senatobia on a dam building project, greasing the big tractors, for 60 cents an hour." The girl that would become his wife went to college in Senatobia; he had met her in high school in Germany.
When work slowed down in Senatobia, Ed worked for a construction company in Memphis, pushing wheelbarrows full of cement for 90 cents an hour.  "I had taken lessons for welding and other skills in Europe, so I also had other jobs using the skills I had learned. We were legal with green cards, so I had to register for the draft. In September 1950, I received my draft letter. I couldn't speak much English; I spoke mostly a mix of German and English. Melita and I got married on November 5, 1950, and I was in the Army on December 1, 1950."  He was 21, married and suddenly in the U.S. Army.
Ed had 12 weeks of Basic Training at Camp Breckinridge, KY, a training center run by the 101st Airborne.  "I tried to talk them into sending me to Europe, but that wasn't going to happen." After a few weeks at home on leave, he had to report to Memphis, then was sent by train to San Francisco then shipped to Yokohama, Japan. "We just had our fatigues, but when we got to Yokohama, we got our rifles, covered in cosmoline (a common class of brown wax-like petroleum-based rust inhibitors.)  The best thing to clean cosmoline is hot water, but with so many of us,  there wasn't much hot water left."
Within just a few days, he was on his way to Incheon. "I got to Korea the same day McArthur left, April 11, 1951."  They traveled by train thru Seoul to Incheon, then walked about 10 miles to their camp. At this camp, he spent weeks getting advanced infantry training.  It was a huge camp, and they had lots of training up and down hills with days and nights in the field. By May 24th, he was at his new company headquarters, where he was issued ammunition, 4 bandoliers and 4 hand grenades.  The bandoliers criss-crossed the chest and saved many from being shot. "On Saturday morning May 26, 1951, the UN forces sprung the Hwachon trap, and I was there. I was assigned as the assistant to a BAR rifleman. We kept moving forward, and by June we crossed the 38th parallel.  We were attacking all the time, and there was a few close calls. In my first attack, my BAR guy got wounded when the Chinese threw a hand grenade. I wound up with the BAR and carried it for quite a while."
In January, 1952, his unit was relieved by the California National Guard, and sent to Sendai, Japan for a few months.  "We finally had good showers. I then went back to Camp Breckinridge, and was in the cadre group." With 36 points, Ed was discharged early on September 1, 1952.  He never got injured. "I had my Combat Infantryman Badge, but no Silver Star, no Bronze Star, no Purple Heart. I was lucky, but I also think that my training as a youth as a Boy Scout really helped me know how to survive outside."
Melita had been going to school at Memphis State.  "I was sending her all the money I could." When he got back to Memphis, he worked as a shipping clerk, but at night he went to school for radio and TV repair.  Then, in 1956, most of the Latvians they knew went north to find work. His family went to Chicago, and Ed was able to get his Electrical Engineering degree at IIT. Ed worked for Warwick Electronics and Panasonic.
Ed and Melita have 2 daughters:  Linda has her PHD in clinical psychology, and Sandra is a high school teacher.  They also have six grandchildren. He is still close with his Latvian community.
Amazingly, Ed is very matter of fact about his time in Korea, calling it "an experience" as if it's just another exclamation point in his amazing life.
Ed Budenieks, thank you for your service to our country.  Enjoy your Day of Honor in Washington D.C.