U.S. Marine Corps  World War II   Mt Prospect, IL   Flight date: 06/07/17
By Carla Khan, Honor Flight Chicago Veteran Interview Volunteer
When the 15-year-old Frank Chrzan saw an ad, "Pilots and Gunners Wanted for the War in Poland," he thought that was just a great idea.  After all, his 2 older brothers were already in the Army, one was fighting in Europe with General Patton, and the other one was in the Far East.  This was an opportunity for Frank, "to do something different." Unfortunately, the recruiting office discovered his real age and sent him home and back to high school. Two years later, however, Frank tried again and with his previous application still in mind, answered the questions in Polish.  It did not get him his coveted aviation slot but he was selected to join the Marines, which he considered quite an honor.
Before long, he found himself in boot camp in Parris Island, SC for 8 weeks of training.  Everything went smoothly but Frank did not care for the water moccasins and was glad when he transferred to Camp Lejeune, NC, for infantry training.  Next, he went to California to attend Radio School, and finally, his training was rounded off at Camp Pendleton, CA, where he became an expert using a 20mm anti-aircraft gun.  During training, a round of ammo got stuck in the barrel and exploded.  Frank was hit in the head but his helmet protected him from harm.  His instructor, however, was hit by shrapnel and needed medical attention.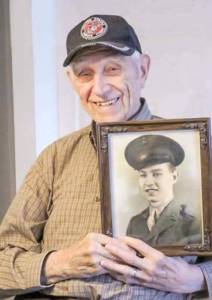 At the end of his training,, Frank was sent to the Far East following a stop first in Pearl Harbor.  It was his first time away from home and he longed for communication with his sisters.  He was not allowed to divulge his location, he'd say that all was well in the Palmer House, but even that much info was invariably censored.  Although Frank really liked the tropical climate, he unfortunately also contracted jungle rot and it took him some time to be cured.  His Marine Detachment on the USS New Jersey set off to shell targets on Okinawa. Finally, Frank found himself at the Yokosuka Base just a few days after Japan surrendered.  He did have the opportunity to visit the Ginza district in Tokyo and experience a little of the Japanese culture.  Not all the culinary aspects appealed to him, though.  
Before long, he was sent for R & R back to Bremerton in Washington State.  With not much else to do, Frank and a friend decided to hitch a ride to Vancouver, BC.  Their ride turned out to be a police officer and found themselves stopping at police stations along the way.  They felt quite safe during the trip. Because they were tardy in coming back, they were considered AWOL. Frank's sergeant stripes were removed for a very short time but eventually got them back.  After a few weeks, he felt ill and had to have his appendix removed.  His doctor stopped by and asked Frank details about where in Chicago he lived.  It turned out that they had lived almost across the street from one another.  Since he had not accumulated enough points to leave the Marines, Frank requested a transfer to Pensacola because he still wanted to learn to fly.  For unknown reasons, he received an honorable discharge instead and was sent home.
Shortly after arriving home, he went to Hines Hospital where his tonsils were removed.  The good thing that came out of this was that a Marine Captain took him under his wings to make sure that Frank used the GI Bill to complete his GED.  Not only did he pass with flying colors, the Captain was so pleased that he stuck with Frank until he had enrolled in Roosevelt University as an Accounting Major.  Just before his Junior year, though, Frank had to drop out to get a job and earn a living.  He found a job in the Accounting field and later added Purchasing as his specialty. Frank still is thankful to the Marine Captain who set him on the path to a very successful career.
In 1948 at the wedding of a cousin who also happened to be a fellow Marine, Frank met and fell in love with Delores, affectionately called "Dee." Shortly afterwards, they celebrated their own wedding. They continue to enjoy a good life with their three sons and five grandchildren.
Frank, enjoy your well-deserved Honor Flight.