Cadet Nurse Corps. World War II  Des Plaines, IL   Flight date: 04/11/18
By Mark Splitstone, Honor Flight Chicago Veteran Interview Volunteer
During World War II, Lillian Strezishar was a member of the Cadet Nurse Corps, which served an important part of the United States' response to entering the war.  She was born in 1923 and spent her early years in Chicago.  During the Great Depression, though, she and her family moved to a farm in Michigan.  Her father delivered eggs and poultry for sale in Chicago.  Because the farm included a large house, they often had visitors from Chicago who stayed with them to escape the issues of Depression-era Chicago.  She attended a one-room schoolhouse in elementary school but when she got to high school age she moved back to Chicago, graduating from high school in 1941.
Lillian had wanted to be a nurse for as long as she could remember. Upon graduating from high school she enrolled at Augustana Nursing School, which was a part of Augustana Hospital on the north side of Chicago.  She lived in a nurses' residence there and was on call night and day.  Life there was a combination of training and working which made for a fairly grueling schedule.  She was partway through her training when an opportunity came up to join the Cadet Nurse Corps.
After the United States entered World War II, it became increasingly clear that there would be a critical shortage of nurses.  Many experienced nurses were sent overseas, but the demands for skilled nurses in the United States remained.  In 1943, therefore, a law was passed to establish the United States Cadet Nurse Corps.  Applicants were eligible for a government subsidy that would help them fund tuition and other expenses.  In exchange, they were required to pledge to serve in civilian or federal government services for the duration of the war.  The program also set up an accelerated training program that compressed the traditional nurse training from 36 months to 30 months.
Lillian decided to join the Cadet Nurse Corps. After receiving her RN certification in April 1945, she went to work at Hines Veterans Hospital just outside of Chicago. At this facility she treated many veterans returning from the war.  During her training at Augustana she had taken a special course in enterostomal therapy, which includes ileostomy, colostomy, and urostomy ("lots of tubes" as she summarizes it).  Many veterans required this type of assistance. Most of her daily activities related to bedside service, such as bathing, wound change, and walking.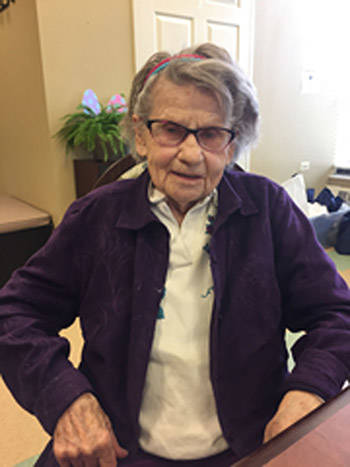 After she had fulfilled her Cadet Nurse Corps commitment with three years at Hines, she transferred to Northwest Community Hospital outside of Chicago where she remained for twenty years, mostly doing the enterostomal therapy that she had learned as part of the Cadet Nurse program.  She eventually left Northwest Community Hospital and then spent the rest of her career as a nurse at various nursing homes around the Chicago area.
When World War II started, Lillian had a serious boyfriend named Lefty who was sent to England in 1942. He served as a radio technician with the Air Force.  He wrote to her almost every day, including poetry and drawings of the house that he envisioned them living in after he returned from the war.  When the opportunity to join the Cadet Nurse Corps came up, Lillian and Lefty were concerned with the possible assignment Lillian might be given. When Lefty returned home after the war, would Lillian have been sent overseas or somewhere else in the states to fulfill her commitment?  They were fortunate that Lillian was assigned to Hines so that they could be together in Chicago upon his return.  He returned from England after the war and they were married shortly thereafter, in July 1945.
They went on to have one son and one daughter, both of whom still live in the Chicago area.  Lefty unfortunately died in the 1960's, but Lillian went on to get remarried and remained so until her second husband died in the 1990's.  She currently lives in an assisted living facility in Des Plaines.