U.S. Army   Korean War   Dundee, IL   Flight date: 05/19/2018
By Carla Khan, Honor Flight Chicago Veteran Interview Volunteer
Terry Hensley was raised outside of Elkton, VA. and learned at an early age about teamwork.  He was from a large family with 10 children, 6 of whom were boys. Five of the Hensley brothers served in the US Armed Forces and three of these returned as Purple Heart recipients. An older brother served during WWII and was severely wounded in France.  Two younger brothers joined the US NAVY. Terry and his other older brother both saw combat in Korea and they returned with Purple Heart medals as well.
Terry, who was born in 1930, grew up on a farm, 4 miles from Elkton, VA.  He and his brothers and sisters attended a small, two room school with about 30 students.  The curriculum was limited with the 8th grade level missing. When Terry entered high school, he was at a serious disadvantage; however he managed because he was a smart student.  After graduation from high school, he helped out on the farm. But a year later, because farming just was not in his heart, he volunteered for the Army following in his older brothers' footsteps.    
Basic Training of only 8 weeks took place in Fort Pickett, VA. but wasn't long enough, according to Terry.   Suddenly, this farm boy who had never been outside his state found himself on a troop train headed to Fort Ord, CA. The ride lasted for 5 days and was memorable only because the food the soldiers received was cinder covered.  His 10 days at Fort Ord passed quickly, but Terry certainly did not miss KP duty when he was shipped out to Japan on the USS General Aultman. Unfortunately, for 10 of the 15 day voyage he was terribly seasick so he was very happy to see first Yokohama Harbor and then Sasebo just north of Nagasaki, in Japan.  
At the end of his long journey, Terry arrived by truck at his base in northern Honshu where he was assigned to the Heavy Mortar Co B, 7th Division, 32nd Regiment, 1st Battalion.  Between May, 1949 and September, 1950, he became very proficient in hitting targets with 5" mortars as well as in being a forward observer, calling in where the target was.  Because his base previously had been a Japanese Army base prior to being taken over by the American troops, it served as an interesting setting.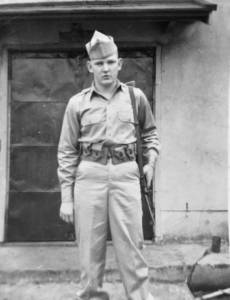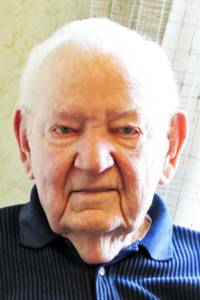 In addition, Terry often obtained weekend passes that he used to explore the countryside.  But after the Korean War broke out in June 1950, Terry and his company were dispatched to Korea.  Amphibious landing craft transported men and equipment, following the Rifle Company at Incheon onto the Korean Peninsula.  Initially they advanced but on November 5th, the enemy had them wedged in and heavy fighting broke out during which Terry lost many of his friends.  The troops backed up to the initial staging area and waited for rescue. The only bright moment during that time was a delicious Thanksgiving dinner that included turkey and the trimmings.
Christmas passed by unnoticed; it was brutally cold with temperatures of -40F.  Finally, they were evacuated by ship in January of 1951 and brought to Pusan for recovery.  Before long, however, they went back to the 38th Parallel armed with mortars and trucks.  On February 23rd  they were on their way north through a valley with Terry again acting as one of the forward observers.  The Rifle Company got through the pass but a trap had been set. Again, Terry was in the middle of heavy combat and this time he was wounded.  The medics got him out; he was evacuated and spent 5 weeks in the hospital recovering from a wound in the hip.
On April 25th, he was discharged from the hospital as the recipient of a Purple Heart.. He next served proudly as a member of the 8th Army Honor Guard which is how he met many dignitaries.  This lasted until October, 1951 when he received orders to return stateside.  This time, the sea voyage was much better. Although he already had achieved the rank of Sergeant First Class, he volunteered to help in performing clean up and enjoyed the trip.  
Instead of having to travel by train, he flew from California to Virginia in a military C-54, a 4-engine aircraft converted for troop transport.  Terry's first flight was a pleasant surprise. In spite of his injury, Terry continued to serve. Because of the Korean War, his tour of duty was extended by one year and after that, Terry signed on to serve another year.  He now had achieved the rank of Master Sergeant and really enjoyed his 80 weeks of training new recruits at Camp Breckinridge, KY. Life was good in other aspects too because this is where Terry met Sharon, his one and only love. They married in August, 1953 and enjoyed married life together for 57 years.  
Living in Kentucky also had another benefit for him. Sharon encouraged him to take advantage of the GI Bill and enter college.  Backed by his Army career and experience, Terry did very well and graduated with a degree in Electrical Engineering. They had two children when Terry was offered a job with Western Electric in Chicago. They decided to take the leap and move to the Midwest.  Terry received promotions that lead to roles in management. Their final home was in the Chicago suburbs where they raised their kids and enjoyed life together with their grandchildren and many great-grandchildren who all visit frequently.
Thank you for your service, Terry!  Welcome home. Enjoy your well-deserved Honor Flight!