U.S. Army   Korean War   Frankfurt, IL   Flight date: 05/09/18
By Len Sherwinski, Honor Flight Chicago Veteran Interview Volunteer
When someone hears that your responsibilities and assignments in the service include being attached to Battalion Headquarters, they might think what a nice assignment. Mr. Kadlec had this "nice" assignment but it included living in bunkers, sleeping in tents, using an outhouse and being located just 100 yards from three artillery units that were engaged with the North Koreans. Ed Kadlec was assigned to the U.S. Army 45th Division, 158th Field Artillery Battalion located near the 38th Parallel.
How Mr. Kadlec ended up in Korea begins with hanging out with his buddies at a local ice cream parlor. At the time, Ed was attending Morton Junior College in Cicero majoring in Automotive Engineering. They were sitting around talking about a high school buddy who was recently killed in Korea. Suddenly one of Ed's buddies shouted out "We have to go over there and kick some ass." That led to a trip to the U.S. Army enlistment center and there was Ed in March of 1952, signing up for a three year commitment to defend his country and kick something in memory of his high school friend.
Ed was inducted into the service at Fort Sheridan and assigned to the Special Training Battalion, 10th Infantry Division for Basic Training at Fort Riley in Kansas. His trip by train to Fort Riley was an eye opener for a young man of 19 who had not traveled far from his Cicero home. After completing his initial training, he was assigned to Communications School where he learned the skills of a Field Wireman. Next, he was sent to Fort Eustis, VA. which was a Railroad Operating Battalion. In January of 1953, Ed got married while he was home on leave knowing his next assignment was with the Far East Command that included Korea.
Ed's journey to Korea was like that of many soldiers. It included a trip through the Panama Canal, Hawaii, Yokohama Japan and finally reaching Incheon. During a 48 hour stop in Hawaii, Ed looked up an old neighborhood friend. Joe. He had a personality that made him everyone's best friend. Joe took Ed on a tour of Oahu in a Plymouth convertible he will never forget. The site of Schofield Barracks with all the bombed out buildings from WWII was surreal.
Upon arriving in Incheon and later the assignment center in Yong Dong Po, there were still barge and train rides ahead for Ed. On the train which contained bullet holes and windows shot out, Ed found a spot at the back. Someone in charge saw him with his M1 rifle and told him he was now a train guard. Ed protested only because he did not have any ammunition.  With that the sergeant reached in his pocket and tossed a round of ammunition to him. With only one clip Ed asked "What do I do if I run out of Ammo?" The sarge said "Jump off the train and run like hell!"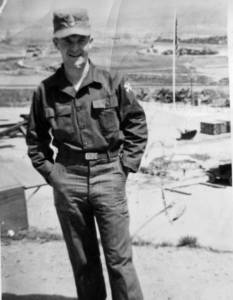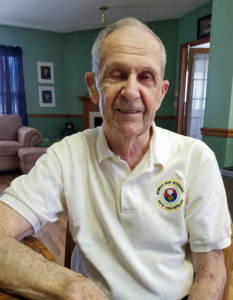 Ed's next introduction to a combat zone was typical of any new soldier. With the first sound of enemy fire he dove into a ditch on the side of the road, much to the laughter of the more experienced soldiers. After a few days, he finally settled into his role as Company Clerk for HQ reporting to the Sergeant Major. Ed confirms it was not a "wheeling and dealing" role you might expect from Radar O'Reilly in the M.A.S.H. television show. Headquarters required more discipline and adhering to procedures. His role did have unexpected tasks like setting out smoke grenades at the helicopter pad so that the pilots could land and get the wounded to a M.A.S.H. unit. Completing paperwork to get these soldiers quickly transferred for proper medical treatment was a daily task.
Ed recalls their commanding officer Colonel Carter from Savannah, GA. Colonel Carter thought he was the second coming of Patton and dressed for the role from the clothes, boots and right down to the polished jeep. He even had his own private outhouse! Of course when the North Koreans blew it up one day, all of his fellow soldiers had a good laugh (quietly of course).
So this was the role of Sergeant 1st Class Kadlec as he spent his 1 year 3 months and 8 days in Korea supporting the ROK (Republic of Korea) infantry to the left, the 179th Army infantry in front and the 180th Army infantry  to the right. Then on July 27, 1953 the ceasefire was scheduled. This just happened to be Ed's 21st Birthday and what a present he received! Ed's unit received the Republic of Korea Presidential Unit Citation for their support in saving countless Korean lives. In addition Ed received the Korean Service Medal with 2 bronze stars, the United Nations Service Medal and the National Defense Service Medal.
Ed served out the remaining year of his service as a Patient Personnel clerk assigned to Fitzsimons Army Hospital in Aurora, CO. Here he met President Eisenhower coming off an elevator. Ed was so amazed that he forgot to salute the Commander of the Armed Forces and just stood there speechless.  
Upon returning home, Ed went to work for Illinois Bell where he worked for 38 years. He and his wife Carol have been married for 41 years following the death of his first wife, Elaine. Their blended family of five children has provided Ed with 11 grandchildren, 6 great-grandchildren with a 7th on the way. He is proud of all of his family, including his grandson Kevin who is currently serving with the 101st Airborne. Ed is an active supporter of the VFW, American Legion, and Korean War Veterans' organizations. He makes presentations locally and presents scholarships to high school students who represent the same patriotic values that he believes in so strongly.
Enjoy your Honor Flight  - thank you for being a proud American who believes in duty, honor and country!