U.S. Air Force  Korean War   Chicago, IL   Flight date: 06/07/17
By Charlie Souhrada, Honor Flight Chicago Veteran Interview Volunteer
As a photo interpretation specialist during the Korean War, Airman Second Class Milton (Milt) Diller never left U.S. soil, but without his service, there's no telling how many lives might have been lost nearly 6,000 miles away. "My job was to make sure those pilots had a safe way in and a safe way out," says Milt. "If you didn't take them in the right way, they died, simple as that. I did my job by saving lives."
Born in 1931, Milt was raised in a Jewish/Catholic neighborhood on the West Side of Chicago in what is now called the Lawndale District. Milt's father sold shoes from a stand on Maxwell Street. If he made $20 for the day, the Diller family, including his brother and sister, were going to be okay. "It was the Great Depression and nobody I knew was wealthy. Nobody was starving. Everybody had food. Everybody had clothes. We did all kinds of jobs, even before we were 16, just to get by."
Around this time, Milt was serving in the National Guard and noticed that nobody had combat boots. He decided to do something and struck a deal with his father's shoe wholesaler, buying his entire stock of 1,000 boots for $1 a pair. "My father was furious," he says. "I told him, don't worry, I'll take care of it." Milt began an advertising campaign "Combat Boots – Buy 'em at Diller's" and sold every pair for $5. "My father thought I was a hero!"
Milt claims he didn't learn anything during his high school years at Crane Tech because he "goofed around." But then he took some college prep classes through the University of Illinois undergraduate program at Navy Pier and things began to click for him. There he studied alongside some of the GI's who had returned from WWII and were participating in the GI Bill. "They had been coming back and they were really changing the country. Before they went to war, nobody moved, nobody went anywhere!" he says. "They came and everybody started moving!"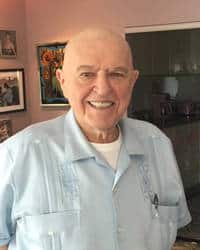 Milt came to the realization that his parents didn't have the means to send him to the University of Illinois. He also realized that it was his turn to give back to the country that had given so much to him and his family. After weighing the pros and cons of each military branch, he chose the Air Force, enlisted and was sent to Lackland AFB near San Antonio for basic training. After having served in the National Guard since he was 16 years old, Milt was well prepared for basic training. "They put us in pup tents and I slept like a baby." KP duty, however, was a different story. "We didn't have KP duty in the National Guard because we ate out of our kits. This was different. One day on KP, I cut my finger and it swelled. The medic gave me a note to get out of KP. On the third day, they said get another note or you're back on KP. The medic unwrapped the dressing, looked at my finger and it was perfect. So, I slipped him a few bucks, he re-wrapped the finger and wrote another note. They put me on guard duty instead!"
Thanks to an interest in photography, Milt was sent to Barksdale AFB, in northwest Louisiana, for photo interpretation training. During the trip, the bus stopped for lunch near Shreveport, and Milt got a lesson in Jim Crow laws. (Jim Crow was the name of the racial caste system, including a series of rigid anti-black laws.) "When you're in basic training, you do everything together, you're buddies. We were at this diner and learned the black guys in our group had to eat in the kitchen. So, we went into the kitchen and ate with them. We got arrested for violating the Jim Crow laws!"
Soon after, Milt was ordered to report to Lowry AFB near Denver to learn how to interpret and identify a variety of military targets, including installations, ships and other data. "You're trained to ask 'why' or 'what' … everything." During the first week at Lowry, Milt ran into his old nemesis, KP duty. "I'm scrubbing pots and pans and contemplating how to get out of this. But then, in walks Sergeant Goldberg!" Milt approached the sergeant and asked for mercy using the best Yiddish he could muster. "He smiled and walked away; the next day in walks Sergeant Goldberg.  He gave me a big smile and says, 'here's a job for you, pick 12 guys and supervise them.' So, we all grabbed mops and mopped the condensation on the floors so nobody would slip!"
After training in Denver, Milt was back at Barksdale AFB for one year where he earned Top Secret clearance. "They used to tell us that the security of the U.S. is paramount. That just means we were expendable!" During Christmas, one of Milt's buddies was picked for guard duty. Milt took the guard duty instead to help his friend and instantly became a base hero. "Within an hour, the entire place knew about it. People came up to me and spoke to me for the first time. I learned a valuable lesson: people respect you for your actions."
Eventually, Milt's seniority earned him his final assignment at Lockbourne AFB, near Columbus, Ohio, where he continued to plot safe routes for missions in Korea. In October 1953, Milt completed his military service and enrolled at the University of Illinois in Champaign to study industrial engineering and safety engineering. Two years later, one semester before he graduated, he saw a pretty, petite student waiting in the train ticket line at Dearborn Street station in Chicago and "nonchalantly" worked his way next to her and struck up a conversation. "Ten minutes later, you could have wrapped a ribbon around me! You reach a certain age; you see how girls react and you just know!" Nine months later, Felice, that pretty student and Milt were married.
After graduation, Milt started his career at Crane Plumbing working on industrial valves. He moved through a series of research, development and industrial engineering roles in electronics, manufacturing and retail until founding his own company. The Diller Corporation sold laminates and other building materials. In 1984, he sold the company and retired. Today, he enjoys his family, including four grown children, Steven, Robin, Lisa and Sandy, multiple grandchildren and one great-grandchild.
Thank you for your service, Milt! We hope you enjoy your well-deserved Honor Flight!